| | | |
| --- | --- | --- |
| | Ancestral Searches | |
Researching a family history which has connections to Yarcombe? We can post your enquiry on this page. Many local residents have an interest in the history of our village and may be able to help. All enquiries are welcome, as is any historical information about our village and its past residents. Send details by email to the Administrator. You may include photographs. (Our History and World Wars pages may be of interest.) Kindly inform us of any communication and/or findings so that we may follow and document your progress, Thank you.

Helpers: Click on photographs to enlarge in a separate window. To reply, click on enquirer's name.

Know which Ancestral Search you're interested in? Use these shortcuts:

1 2 3 4 5 6 7 8 9 10 11 12 13 14 15 16 17 18 19 20 21 22 23 24
---
Ancestral Search 24
---
January 2020
I have a copy of Ruth Everitt's book, but also want to praise you for all your ongoing local history research and the support you offer others. The web pages are something of which Yarcombe should be proud. I have family roots in Yarcombe but they are some way back. The first thing I discovered was the 5th January 1789 marriage at Yarcombe of Anna VINCENT and Elias CARTER (from Harpford). Question 1 - How might they have come to meet? I think Elias CARTER may have been living in Yarcombe a few months but after marriage the couple settled in Harpford where they had 10 children, all of whom survived infancy. Elias became a yeoman farmer, churchwarden, overseer etc. Interestingly Anna had an illegitimate daughter, Rachel VINCENT who was baptised at Yarcombe in 1787. I have never found any mention of the child's father but when Anna left Yarcombe with her new husband, it would appear Rachel VINCENT remained in the care of her maternal grandparents, John VINCENT b1727 and Hannah. Question 2 - Have you any idea who might have been Rachel's father?

I know a lot about John VINCENT b1727 of Dennington and have a copy of his will. He died in 1812 and left money to both his married daughter Anna CARTER of Harpford and to his grand daughter Rachel who had married Francis WYATT at Yarcombe in 1810. She had a big family and died a grand old lady (formally a cow keeper!) in 1875 at Smeatharp, Upottery (aged 88yrs). I don't think it a coincidence that one of her sons Thomas WYATT b1826, married Sarah Hare CARTER, a grand daughter of her mother (Anna CARTER nee VINCENT.)

With a fair degree of reliability I can go back several generations with the VINCENT family to the marriage of James VINCENT and Prudence DARE c 1680. However I have never been able to validate this marriage in any parish register. The DARE family that Ruth Everitt wrote about at Clifthayne, Yarcombe are my ancestors and I believe came from Kilmington/ Axminster in the late 16th century/ early 17th century.

Question 3 - My BIG QUESTION - There are two babies named John VINCENT baptised at Yarcombe in 1727. I believe they were cousins! I have always gone with John, son of Benjamin VINCENT and Rachel, only because Anna VINCENT called her illegitimate daughter Rachel. I would love to have some collaborating document of this. The other John VINCENT was son of James VINCENT and Elizabeth nee TURNER.

Just remembered another - Question 4 - How come in John VINCENT's 1812 will did he have property (Simpson's Court) in Thurlbear? I know his wife came from Pitminster but I've never worked out the Thurlbear connection.

Sorry this is so long but when I get on to talking about family history, I find it difficult to stop. I am happy if you wish to add my comments on the Yarcombe webpage or to share anywhere else that you fancy. If you know others, I would love to make contact with people researching the same names.

With kind regards, Anne Speight, Loughborough, England
Peter Tarrant writes: Thank you for your enquiry and kind comments about the Yarcombe website. I added the Ancestral Searches page nearly 2 years ago thinking it may perhaps encourage a couple of enquiries, but have been pleased to see them arriving at a steady pace ever since! We are very fortunate to have someone in Yarcombe as dedicated as Steve Horner and much of this would have been impossible without him. Having said that I suspect some of your questions are a little deeper than the average. I await Steve's response with interest!

Steve Horner writes: I was of course delighted to receive your kind wishes and the information about various local families with whom you have a connection. As you know this information will now be out there on the world wide web and be collected by powerful search engines such as Google so your names may well be picked up by others researching the same names. I am afraid I cannot answer any of your detailed questions, however one question for you please. Over the years starting in 1582, the Drake family gradually acquired much of the land in the parish of Yarcombe. My house now called Old Woodhayne Farm adjoins Clifthayne Farm where the Dare family lived. Old Woodhayne Farm was sold by the estate in 1970, and I am writing a history of the house which has its origins in the 15th Century. As Ruth suggests in her book, Clifthayne was probably purchased by the Drake estate between 1786, when it was owned by John Willie, and 1794, when it is mentioned in the Estate timber survey.

Now here comes the tricky part - my farm, then called Woodend, was owned by Henry Willie who died in 1792, and I suspect John Willie and he were related. I am almost certain that the Drake family acquired Woodend upon the death of Henry Willie. The dates of late 1790s might well indicate a sale of both properties to the Drake family (Lord Heathfield). Do you have any record, perhaps in a will, as to when the ownership of Clifthayne passed from the Dare family to John Willie?

I am sorry I cannot help more with your questions, however perhaps others will have some clues for you.
---
Ancestral Search 23
---
December 2019
Hi, Have just been browsing your excellent site; I am looking into my wife's ancestor, a John Wiscombe (or Wescombe) who was born in Yarcombe around 1775. I think he married Anna Mutter in 1805 and had 3 or 4 children, then married Mary Brewer in 1815 with whom he had a further 10 children! I can only find a single birth record so it looks like he married twice, although I am not sure what the circumstances were. I believe his parents were Robert and Jemima, who I assume also lived in Yarcombe. He was in the 1841 census in Yarcombe but I cannot decipher the address given as the image quality is very poor. Any help would be gratefully received. Thank you. Allan Bicknell.
Peter Tarrant writes: Thanks for visiting the Yarcombe website. I have scanned the publication 'From Monks To The Millennium' and Wiscombe/Wescombe drew a blank, but there are references to Mutter and Brewer reproduced below. Much may be irrelevant, for example the second extract for Mutter refers to a property rather than a surname, but I have included each paragraph in full for completeness:
STOUT MILL
This is probably the mill at Dennington that is mentioned in early documents. In 1600 there is a mill listed as Dynyngton Mill, occupied by John Mutter, paying tithes of 12d. to the vicarage. In 1782 there is dual ownership or a mortgage arrangement between the Drake Estate and widow Spiller. Occupiers of the mill include John Spiller, Robert Willie, John Wilce and William Manley. The ¾ acre mill pond was fed by a stream rising on Brown Down. The machinery consisted of an overshot wheel 12` in diameter and 3` wide that drove a shaft which not only powered the mill, but also passed into the house to assist with the mixing of dough for bread making. The electoral roll of 1832-3 shows that it was a rented Estate above £50. The Estate kept the mill and bakehouse in good repair, T.Trott repairing the oven and replacing bricks, and Hockey & Co. providing new mill stones for £12 in 1897 as well as repairing arms and bearings in 1899. A flour machine was supplied in 1901 and more repairs were undertaken on the water wheel and machinery costing £81. 10s. In 1931 the mill was sold and the sitting tenant, Mr.F.Quick, became the new owner. By 1953 the water wheel required extensive repairs and the mill closed.
TOLLER"S MARSH
The first documentation of this property that could be found was dated 1784, when a Peter Toller bought a freehold estate of 23 acres from William Hill. Prior to this date the property had been known as May"s tenement at Marsh. Peter Toller left Toller"s Marsh to Stephen Gollop, subject to payment by Gollop of £100 to his sister, Mary, wife of Ben Hurford, at the age of 21 years. The property was actually inherited by George Gollop, (Stephen"s brother), Stephen having died before he could claim his inheritance. Peter Toller had another property known as Toller's Mutters. This was sold to the Yarcombe Estate sometime before 1810 and it was added to New Barn. George Gollop retained Toller"s Marsh, using it to raise money by leasing and releasing and mortgaging. A Samuel Wyatt of Buckland St. Mary paid George Gollop £300 for a release in 1844. This was the era of coaches and coaching routes, and land at Marsh, being on the London to Exeter coaching route, would have been much in demand. Part of the estate near Clifthayne, a small field of just over an acre called Marshment Down, was sold to Mr. John Kerly, a gamekeeper on the Yarcombe Manor Estate. A poultry enterprise was operated for a while at Toller"s Marsh during this century and it is now a privately owned small-holding.
HAY (also known as Higher, Middle, Little and Haines Hay)
It is difficult to decipher with any accuracy the exact history of the remaining Hays from the available documents. It is probable that Higher Hays either incorporated Haines Hay or was once known as "Haines Hay". Little Hays is shown on the Enclosure Map of 1817 as Middle Hays. In 1600 it was an important area as there are four Hays listed:- Haye - occupier Richard Newberie, tithe 6d, Haye and Adam"s Meade - occupier Elizabeth Mathew (widow), tithe 8d, Hayes and Rodlands Meade - occupiers Brigett Turner and John Soper, tithe 8d, and Hay and Hynxwell - occupier Charles Pavey, tithe 10d. Hynxwell is described as barton land. In the 1727 Land Tax Survey there are three properties listed as Hay. They are as follows:- For Hay, John Strickland, tax £1. 19s. 11¾d, For part of Hay, David Pay (perhaps Pavey), tax 12s. 7½d, For Hay, Susanna Trott, tax 8s. 5d. Also shown are Hinkswell, John Strickland, tax 14s. 8¾d. Adams and Willmore, William Matthews, tax 17s. 10½d. The Estate Timber Survey of 1794-5 shows a small property called Middle Hay and two larger holdings, Higher Hay and Haines Hay. The Land Tax of 1798 shows John Strickland as owner and tenant of Hay (leased for lives from Estate); he is also the tenant of Haines Hay, for which he paid a tax of £1. 15s. 9½d. This is almost exactly the total of tax paid for the properties of Pay, Trott and Strickland (Hinkswell) in the 1727 Land Tax Survey. By 1810 Higher Hay is no longer listed, but there is a Mrs. Strickland shown as a tenant of Lord Heathfield"s at Haines Hay as well as Haykins and Wellsmead. The Enclosure Map of 1817 reintroduces Higher Hays, with John Matthews junior as the occupier, and Middle Hay (Little) is shown with no land, and the occupier as Richard Mutter. Hearsay from reliable sources tell of a fire at Higher Hays and the existence of another fine older building between the two existing Hays, which was pulled down.
The references to Brewer follow:
BEACON HOUSE (formerly site of Yarcot)
Beacon House has recently been built on the site of Yarcot. The skilful use of local stone in its construction has helped the house to blend into the surroundings. There were probably three cottages on this site, although none of them remains today. The first documentation is a schedule of deeds relating to a cottage and two pieces of garden. In 1827 Robert Brewer gifted it to his grandson John Pike, who in 1831 transferred the cottage and land to Robert Spiller (Panshayne) for 2,000 years. He received £20 plus interest and moved to Stockland. The two pieces of garden referred to are probably the site of Beacon House (Yarcot) and Emmet"s Farm. In 1877 R.Pavey sold the property to the Yarcombe Estate. In 1931 the Yarcombe Estate sold Yarcot, a stone-built thatched cottage, and not even the walls remain of what had once been known as "Brewer's Cottage" to the north-east of Yarcot.

PETERHAYS (also known as Petershegh or Great Peterhays)
Peterhays, recognized as one of the best farms in the Parish, was for many years the property of Exeter Cathedral. In 1326 Bishop Walter Stapledon"s tenant had the following stock on the farm:- 2 sumpter beasts (draught horses) valued at 10s., 16 oxen at 6/8d. per head (£5. 0s. 8d.), 1 bull 6/8d., 1 yearling 1/6d., 180 sheep at 12d. per head (£9. 0s. 0d.). In the grange the corn was worth £9. 6s. The dead stock of timber, lime, laths and cut stone for the new buildings was valued at £10. 1s. 0d. There was also timber worth 10s. at Madeford. Bishop Stapledon was murdered in London and his successor was James de Berkeley, whose very brief episcopate was of 14 weeks! "Death overtook him on June 24th., 1327 while on a visit to Peterhays, an episcopal manor in the Parish of Yarcombe, on the north-east border of his diocese". His death was registered at Newenham Abbey at nearby Axminster. In 1600 the three occupiers of Peterhays, William Bennett, Jasper Brewer and John Symes were required to pay a tithe of 4s. 9d., the highest in the Parish. There was a valuation of the property in 1647. Rents and profits per annum were £10. 0s. 0d., improvements above per annum, £108. 10s. 0d., timber and wood valued at £66. 13s. 4d. Reprizes were to be paid to Sir Francis Drake (impropriator) out of Peterhays at a rate of 10s. 10d. per annum. During the eighteenth century Peterhays was leased to Stephen Weston of London and for a time the farm became known as Weston Lands. Weston sub-leased it in 1728 to Jonathan Newman, a merchant from Salisbury, Wiltshire. By 1798 Lord Heathfield had obtained a long lease on the property and John Seward was his tenant. The Land Tax Surveys of 1810 and 1832 show Robert Smith was followed by John Smith as tenant of Peterhays. The Electoral roll of 1832-3 states that it was an Estate worth more than £100 per year. There was probably a fire that destroyed part of the farmhouse, as it was rebuilt in the 1860s. One of the buildings was unusually named 'Spillers Hall'. (Robert Spiller was a tenant in the nineteenth century). The present owner was unable to shed much light on the subject, but did confirm that there was a large building which some time ago had been used occasionally as a dance venue. The Yarcombe Manor Estate intermixed its freehold estates with the leased Peterhays holding and in 1931 sold a small dairy farm known as Part Peterhayes, which comprised 35 acres and a thatched cottage. Great Peterhays was sold in 1961 by the Church Commissioners.
Steve Horner adds: Many thanks for your enquiry and we are always pleased to try and help with such enquiries, it all adds to our pool of knowledge about the history and people of our village. I looked at the 1841 census and as you know it is possible to decipher that John Wiscombe was living with his son Walter aged 12 and his daughter Charlotte aged 21 - his occupation is shown as a Cobbler. The location is perhaps Mannings Common and this fits with other properties in the area which would have been covered by the enumerator walking or perhaps riding from door to door in the area. If you look at Ancestral Search 1, you will find more information about the cottage(s) at Mannings Common which no longer exist. You will probably have noted at this time there were other families in the parish with the name Wiscombe, doubtless progeny of your prolific ancestor! Good luck with your continued research , we always appreciate feedback.
---
Ancestral Search 22
---
December 2019
Hi. My great, great grandfather, William Lentell (b.1829) came from Yarcombe and he and his father before (Matthew Lentell) lived at Williambeer Farm on the parish border of Yarcombe and Upottery. I wondered if you might have any information on the farm in the village book 'From Monks to the Millennium'. Many thanks, Clare Foss
Peter Tarrant writes: Thanks for your enquiry. A scan of 'From Monks To The Millennium' reveals 15 references to Williambeer Farm over 7 pages. There is no mention of the Lentell surname but a John (or J) Lental is mentioned twice, in connection with Knapp Farm and Williambeer Farm (see below). If you would like a digital copy of the book I believe a modest donation to our village magazine, Yarcombe Voices, would suffice - please contact the editor, Miranda Gudenian.
KNAPP
Knapp is listed with Crokam in 1600. Christian Vincent (widow) is shown as dwelling at Crokam and having the tenure and occupation of Knapp. She died in 1606, leaving her estate to her son, Symon Vincent. The tithe payable was 7d. In the Land Tax of 1727 Mary Paris paid a tax of £1. 7s. 4d. for Knapp. By 1794-5 there was a large amount of saleable timber, worth £58. 12s. 8d, comprising 52 oak and 10 ash; the house is noted as needing repairs. There was a boundary stone marking the extent of Yarcombe Parish with Upottery placed in the River Otter in 1864. Tenants of the Estate included John Lental and Edward Webber. Knapp, with Knight"s Mill and Rackley, making a total of 76 acres, were sold in 1931.
WILLIAMBEER (also known as Williambeare)
In 1600 this farm is listed with Pipenhays. Williambeare has Thomasine Vincent as the occupier and Pipenhays has Joane Vincent (widow) as the occupier. The combined tithe is 12d., so it is one of the more important properties. The 1727 Land Tax shows a Mr. Gifford as the owner of Williambeer and Richard Stevens occupying Pipenhays. The Timber Survey of the Drake Estate in 1794-5 states that there were 20 oak, 20 ash, 7 beech/sycamore, 7 elm and 1 fir of saleable timber at Williambeer, worth in toto £46. 17s., and 10d, and 18 oak and 36 ash at Pipenhays. The 1798 Land tax shows Lord Heathfield owning Williambeer, with J. Lental as a tenant, and Widow Westlake (with mortgage or lease on years or lives to Lord Heathfield) as the owner of Pipenhays, with J.Loosemoore as the tenant. Williambeer must have had water meadows as the Estate renewed the hatches in 1870. Pipenhays no longer exists as a separate holding. Williambeer with Farthings included was sold in 1931. The sale catalogue shows that Williambeer then consisted of 84 acres and one of the buildings was a pound house with a granary above..
I note that Ancestral Search 8 refers to a similar surname (Lenthal) and was wondering if you have any evidence of a connestion..

---
Ancestral Search 21
---
October 2019
My name is Heather and I live in Appleton Cheshire, my Gt Gt Grandfather was John Lee who I believe lived according to the 1881 census at Axiviney cottage and then later at the Rising Sun Inn as both the landlord and also a bootmaker. Do either of these premises exist, and are there any Lee family still in Yarcombe? I also have Childs, Sartin and Spiller in my family tree, wondered if you could help at all. Heather Coulson
Steve Horner writes: Many thanks for your enquiry. You are correct, I have located your great great grandfather John Lee (aged 29) on the 1881 census living at Axviney cottage with his wife Emily aged 25 and his daughters Blanche aged 6 and Mabel aged four. This cottage no longer exists, although we have reason to believe was located just below Whitehorns on the scanned map (click here). As for mention of the Rising Sun public house this set us scratching our heads as there are/were several pubs of that name in the area. However I have located John Lee as landlord of the Rising Sun in Stapley which is in the neighbouring parish of Churchstanton:
1889/John Lee/& Shoemaker/../../Kellys Directory **

1893/John Lee/& Shoemaker/../../Kellys Directory **

1902/John Lee/& Shoemaker Asst Overseer & Parish Clerk/../../Kellys Directory *

I am not certain if this pub still exists as a licensed premises, but I feel certain the building will still be there. In the 1901 census he is shown as living in the Rising Sun with his family, Emily his wife and their children, Lucy Mary (12), William George (9), Herbert Jack (9) and Margaret Gillian (3). In the late 1890s there were several families with the surname Lee in this area but to my knowledge the name has died out. The family name Spiller crops up very often in the records and a branch of the family still live in Yarcombe. I hope this is of help to you. If you give me a few more clues perhaps I can answer more specific questions.
Heather Coulson writes: Thanks for that information. My Spillar connection is Mary Bromfield Spillar who married Joseph Board. They were the parents of Emily, John Lee's wife. I am sure they were from Churchstanton but could they have relatives in Yarcombe?

Steve Horner replies: The Spiller family are very much part of Yarcombe history and there are still members of the family in the parish. I carried out a quick check on Ancestry.uk.com and you are correct, your branch of the Spiller family (note spelling) were residents of Churchstanton and Mary married Joseph Board on 23rd August 1852 in the parish church in Churchstanton. Mary and Joseph (a blacksmith) later in their lives lived in Marsh which is a hamlet of Yarcombe Parish. I hope this is helpful.
Heather Coulson writes: Thank you Steve for that, it's amazing there are still members of the family still in the parish. Would be interesting to find out what branch they are from.
Steve Horner replies: That is a very difficult question to answer without constructing the whole Spiller tree! In the Bishopswood village hall there is a very large tree almost covering one wall which amongst others shows a large number of Spillers. If you are ever in the area it's worth obtaining the key and having a look. Great to work with you.

---
Ancestral Search 20
---
September 2019
I have been tracing our ancestors, the Spiller family back to Yarcombe. They were living there in the 16th century, if not before. I understand that there may be some information about them and about the village in the book 'From Monks to the Millenium'. I understand that you may be able to put your hands on a copy of the book. If you can I would love to purchase one or borrow one. Perhaps I could make a donation to a local charity. Please let me know if this would be possible. Kind Regards, Andre Evans

Miranda Gudenian replies: Yes, your family has deep roots in Yarcombe, and there is a lot of historical information (here) on the village website. Local historian Steve Horner may be able to answer a number of your questions about the Spiller family. Hard copies of the book From Monks to the Millennium are no longer available, though occasionally a second-hand copy does come up for sale. However, a pdf is available for a donation to Yarcombe Voices, the village magazine. Do let me know if you would like it.

Andre & Clare Evans respond: Thanks so much for your help. This is of great interest to us. We did find a number of Spillers in the churchyard. We would like to have a copy of the pdf. We will make a donation to Yarcombe Voices.

Miranda Gudenian replies: Thank you so very much. From Monks to the Millennium was written by a dear friend and neighbour of mine, Ruth Everitt. Her research continued after its publication in 2000. Ruth died in 2014 but her historical research is continued by Steve Horner who I have copied in to this email. I have also copied in Yarcombe Voices' Treasurer, Maggie Tomkinson, who will send you bank details. I will send the pdf in a separate email today.

Steve Horner adds: As Miranda has explained I would be delighted to assist further, I assume that you are the same Clare Evans whose initial queries are covered in Ancestral Search 13 here in our Yarcombe website. Please let me know if you do uncover more of your families connection to our village so that we may add to our pool of knowledge. Good luck.
Andre & Clare Evans reply: Thank you Steve, yes this is one and the same Clare Evans. Clare's mother was Heather Spiller whose father RG Spiller ran a building business in Chard. I believe that you can still see the RG Spiller vans running around the area. We have got as far back as Robert Spiller who lived in Yarcombe between 1579 and 1617. His father was John Spiller. We understand that the Spillers were originally Huegenots who came over from the continent for religious reasons. So far we have no more information than that, but we will keep trying. I will send a copy of the family tree over. If my IT skills are up to it, I will do a screenshot. We are now happily settled in Cornwall having moved around quite a lot. Will be in touch.
Steve Horner writes: Many thanks for your reply, it is a pleasure to work with you to find out more about our Parish and its history. Indeed I can remember when RG Spiller had a builders yard and building business in the centre of Chard, although that land now has been built over, the business is now based on servicing and selling kitchen ranges such as Aga and Rayburn they have a very good reputation in the area. I believe Eagle Plant was also part of the RG Spiller Group but is now a separate business – coincidentally I am about to visit their premises in Chard to hire an excavator for use here next week! Good luck with your researches into the early origins of the Spiller family. I might just add that it is a pleasure to work with you, we have responded to several queries in our Ancestral Searches section of the website, never to receive any further response!

---
Ancestral Search 19
---
September 2019
Hi, I have recently been doing some research into my family's history and have come to find that my mother and two uncles were evacuated from London to Yarcombe. In fact, I found a picture that has the three of them in, Jean, Fred and David Crump, on your brilliant website. I have really enjoyed finding this website and reading about Yarcombe and how it treated its evacuees. It has left me yearning for more information - would you be able to recommend any other websites or museums, or anywhere I could find more information from, please? Somerset must have left an impression on my mother as she returned when I was a child and it is where I live now, and only an hour away from Yarcombe. Lorraine Clements
Steve Horner replies: I was delighted that you have located our website. It certainly has attracted a lot of attention and interest over the past year or so. First may I assume that you have identified your Mother Jean and Uncles Fred and David from the photo of the evacuee class of school children – on our World War II page: Fred Crump second row first on LHS and your Mother Jean second row last on RHS - Is this correct please ? Can you spot them in any other of the photos we have on the website? I understand David and Fred were twins and were billeted with the Venicott family here in Yarcombe - I need to find out the exact address. Your Mother was billeted with the Moore family at Four Elms. The entire class came down from London from St Anne`s Roman Catholic School Lambeth London, with their teachers, Miss Stringer and Miss Marsh. I have written twice to the school secretary asking for more information but have not had a reply – perhaps this might be another source of information for you. I may be able to dig up some more information if you can give me more background, for example dates of birth and possible street address where your family lived in London. Do you have any reminiscences or stories that they told you about their time in our village? I look forward to hearing from you.
Peter Tarrant adds: I have posted a random collection of links, primarily intended for local residents, on the Internet Links page, although they often become out of date when the website owners make modifications which are out of my control. Simply doing a Google search for Yarcombe produces good results, too. You can also find back issues of our local magazine on the Yarcombe Voices page. If you have specific questions let us know - Steve Horner, our local expert, is very good at digging out fine detail.
Steve Horner adds: Almost by accident, certainly a coincidence I have found more information about your uncles Fred and David Crump - see 1939 Register of households. This register was compiled at the start of the Second World War, 29th September 1939 to be precise, to form the basis of a national identity register. Fred and David Crump were billeted with Blanche Vellacott at Broadley which is at the top of Yarcombe Hill on the A30 on the way to Honiton. You will note Fred`s date of birth is shown as 23rd December 1930 and Dave`s as 15th August 1932, so I was wrong - they were not twins! I have a suspicion that they may have settled down in this area after the war was over. I hope this is helpful.

---
Ancestral Search 18
---
August 2019
Hi, I came across your website about the Yarcombe World Wars which I found very interesting. My family has very close links to the village. My father's, my uncle's and my aunt's ashes (respectively Gordon Hayne, David Hayne and Sheila Hayne) are interred in the Baptist churchyard as well as those of my grandmother's cousin and her mother (respectively Lily Salter and Hattie Bailey). I'm writing because, with my cousin, I shall be visiting my great Uncle's tomb in Ponte Sur Sambre in France (Ernest Bibbs), who was my grandmother's elder brother (Ada Jesse Bibbs). I notice you have some details of his campaigns in France on the website, do you have any more details of these? And I was wondering too if the photo you mention of all the family at Waterhayne farm is visible anywhere, or whether you can get hold of a copy? Nice to think he was remembered by the village last year with a bonfire! Thanks for any help or details. Dr Jeremy Hayne

Reminiscences of Hays Farm, written by Jeremy's father Gordon in December 1995 (above)
Steve Horner explains: Dr Jeremy Hayne contacted me from Milan, he is a relative of Ernest Bibbs, Sergeant in the Machine Gun Corps who was killed on the last day of the war and whose family are descended from John Matthews ( 1798-1879 ) who farmed South Waterhayne. John Matthews' children were John, Harriet (Hettie) Henry and Mary (Polly) and lived at Hay farm. Polly married Robert Henry Bibbs and moved to Birmingham where they had one son, Ernest and 6 daughters, Alice, Laura, Ada, (Jesse) Doris, Hettie and Constance. Ada married George Hayne and their children were Gordon, Peter David and Joyce. Gordon is the father of Dr Jeremy Hayne. Although John Mathews senior farmed at South Waterhayne, this family were farming Hay farm, but I await comment from Elaine Munt on this point.
Steve Horner replies: I was delighted to receive your e-mail explaining your close connection to Yarcombe. I had a quick look at the website as I am not certain how much information is to be found there. I have much more information on Ernest Bibbs in my filing system and I am almost certain that the photo of South Waterhayne came from Elaine Munt whom I see regularly, as she is related to the Mathews family. I shall give you every assistance possible and I wish you well on your trip to Belgium. I look forward to hearing from you!
Jeremy Hayne responds: In your first email you said you had more information on Uncle Ernie Bibbs. When you have a moment perhaps you could send something on, I'd be very grateful.
Referring to above photos, here is a list of all the people. Matthews, of course, was my Great grandmother's maiden name and I always like the photo of her two brothers looking very dapper (John and Henry - who died young). John, as you can just see, had a missing left forearm and was, according to my grandmother (Ada Jessie) a bit of a scamp, teasing his nieces. In the second photo: Adults from the left: Lily, her mother Hattie, Auntie Dolly (Doris), Auntie Connie, behind Connie there is Auntie Laura though we can't see her very well, Auntie Olive is next to her. At the back is Uncle Billy Cox (Doris's husband), Grandma Jessie and Cousin Ernie (Laura's eldest), Joyce (my father's eldest sister) is on the end and next to her Joan (Laura's second) - I think she has Gordon (my father) in a head-lock, Connie is holding on to Laurie (Olive's youngest), then Peter and David (my father's elder brothers).
What relationship does your friend Elaine have to the Matthews? I guess we are related somewhere along the line.
Going back to Ernest and Evelyn it's interesting that my grandmother named my father Gordon Ernest and his elder sister Joyce Evelyn.
| | | | | |
| --- | --- | --- | --- | --- |
| | | | | |
| | | | | |
| Ernest's fiancé Evelyn | Ernest Bibb's mother & sisters | Lily & Arthur Salter. Lily took over the running of Hay Farm with her mother Hattie, they are both buried in the Baptist churchyard there. My father and his family spent all their summers there with their mother. I think my aunt Sheila was evacuated there during the war. | | Aunty Polly with sister and brother -.John Matthews, Hettie Matthews and Great Grandma Polly |
| | | |
| --- | --- | --- |
| | | |
| | | |
| Uncle Ernie | | Ernest and mum Polly |
Steve Horner adds: Some years ago, when I was researching those men from Yarcombe who gave their lives in the great war Elaine Munt kindly permitted me to copy the attached photo (below, left) of the Matthews family who lived at Hay farm. The photo includes Ernest Bibbs who was killed in action on 10th November 1918. The key person in this photo is John Mathews (3rd from left in back row) who was the tenant of Hay farm at this time; he was born in 1840 and died in 1921 aged 61. I have been able to date the photo as being 1910 or thereabouts from the baby, Constance Annie Bibbs who was born in 1908 and I guess she is about 2 years old. Previously Jeremy Hayne sent us his father's reminiscences of Yarcombe and in that he explained that John Matthews daughter Mary Jane (Polly) married Robert Henry Bibbs and they moved away to Birmingham, however at every opportunity the family headed back on the train to Yarcombe. The children of Robert Bibbs and Polly were Ernest*, Alice, Laura*, Ada*, Doris*, Hettie*, Constance*. Those marked with * are all present in the photo.
(See Jeremy Haynes' comment below.)
Back Row left to right:

Laura May Bibbs married Harold James
Ernest John Benjamin Bibbs Killed in action 10th November 1918
John Mathews Hay farm Died 1921
Ada Jessie Bibbs married (George ) Hayne
George Salter married Emma Helena Hurford Birch Mills
Lily Salter married (AG ) Bailey +
Frank Salter married Emma Summers
Lily Berry married Jones
Olive Kathleen Bibbs married Evan Thomas

Front Row:

Mary Jane Matthews married Robert Henry Bibbs (Polly) holding Connie *
Harriet Darby Matthews married George Salter of Hemyock (Hattie)
Jane Joan Clarke Brought up by Frank Spiller
Julia Anne Matthews married Alfred Berry a Policeman ( from Worcester)

Kneeling:

Doris Emma Mary Biddle married Cox
Hettie Lilian Bibbs died 05/01/24 aged 24

Notes

*Constance Annie Bibbs on Aunt Polly`s lap died 05/01/1977 aged 6
+Lily Bailey last survivor of this group

In this smaller photo are an elderly couple who I have been able to identify as John and Elizabeth Matthews (nee Newton) at Mount Cottage Yarcombe on 25th March 1845. This identification is again thanks to Elaine who enlarged the inscription for me. This is a very early example of a photographer's work and it is certainly the oldest photo we have which was taken in Yarcombe.
The above information came to us from two people Elaine Munt and Jeremy Hayne who are obviously related through the Matthews line and it has taken me some time to work out the relationship. The key ancestor is John Mathews who married Elizabeth Newton born in Otterford in 1796 and died in 1879, during which time he and his family farmed at South Waterhayne, they had three daughters Mary, Hannah and Elizabeth and two sons John Junior (born 1828) and Henry (born 1835). John junior was a tenant at Hay farm and he married Mary Jane Darby whose photo was sent to us by Jeremy Hayne, and is already up on the website; it is John Junior's son, again called John, who is shown in the photo and who died in 1921.

Elaine is descended from the second son Henry born 1838, whose photograph Elaine has kindly provided to me (right), as well as manuscript extracts for her family Bible which permitted me to put together the tree (below), which is in my own hand writing.

Finally the piece de resistance:

A

portrait of John Matthews which I believe is still hanging in a house in Combe St Nicolas:

It is really quite amazing what can be found on the web !

Jeremy Hayne responds: Thanks for this. As you know I visited Ernie Bibbs grave at Ponte Sur Sambre with my cousin and it was a moving experience. This information is very interesting and it's great to be able to fill in details of the family. There are just a couple of errors. Ernest Bibbs was killed on the 10 November not the 11. Ernest's next youngest sister was called Olive (Olive Kathleen Bibbs). I think the Alice you have written (children of Robert Bibbs and Polly) must be a misreading, so all the Bibbs children are in the photo. It's nice to be able to pick up on another branch of the family, namely that of Elaine (hello!) and I've added all the info onto my Ancestry.co.uk family tree. I attach a couple of photos (below) from my recent trip to France. One shows me and my cousin Catherine Eddy (second daughter of Joyce Hayne). Thanks for all you work and interest!
Steve Horner replies:
Many thanks for your prompt reply, it really is a pleasure working with you. I am also pleased and deeply moved that you paid your respects at the grave of Ernest Bibbs and that his memory lives on. If we find out any more information about the Bibbs/Matthews family I will pass this onto you.
---
Ancestral Search 17
---
August 2019
Hi, I'm wondering if you can give me more information on the Popes who lived in Yarcombe in the 1700s and 1800s and appear to be my ancestors. My 5th Great Grandparents appear to have been John Pope (born c1767) and Ann Thomas (born c1766, died c1797). My 4th Great Grandparents Joseph Pope (born c1792) and Ann Cooke (born c1795) married in Yarcombe (Aug 1816). My 3rd Great Grandmother Anne Pope (born c1822). The 1841, 1851 and 1861 censuses have various family members living in Axviney, Pithayne & Grovewell Cottages. I've been reading Ruth Everitt's Book which mentions the arrival (or rearrival??) of the Popes to Yarcombe on page 14, presumably after the death of Ann Thomas, but I'm wondering if there's any more information on them or their parents. Any help you can give would be very much appreciated. Regards, Dave Johnson
Steve Horner replies: Many thanks for this information about the Pope family who lived in Yarcombe in the 18th and 19th Centuries, it certainly adds to our store of information. Apart from the mention in Ruth Everitt's book I have little information to add to that which you have already accumulated. If you so wish I can take photos of the cottages where your family lived, although from memory Axviney no longer exists. However perhaps we have a family connection although it's a long shot. My great aunt Maria Horner born Lyme Regis in August 1850 and died in Chagford on 22nd February 1923 married Henry JJ Pope who was born in Seaton on 30th December 1839. Maria owned a haberdashery shop in East Street Taunton and had two children Maria Beatrice Pope and James John Horner Pope who was a photographer in Taunton.
Dave Johnson replies: From my reading, I also believe Axviney no longer exists but any photos of Grovewell and Pithayne Cottages would be very welcome. I'm currently unaware of any links to Chagford, Seaton or Taunton but have found links so far to Charmouth, Tiverton and Crediton, more through the descendants of John Pope and his 2nd wife, Elizabeth Dolling. I haven't gone far down those links so anything is possible. Overall, I'm looking to firm up some of the information I have gleaned as I can't find multiple firm sources though I do appear to have DNA links through John Pope. Any information or photos will be gratefully received.
Peter Tarrant adds: There are photographs of Grovewell Cottage on Photograph Page 8, obtained from Mary Copp's collection. Pithayne Cottage is also referenced in Ancestral Search 12.
Steve Horner replies: David, thanks for the prompt response, Peter Tarrant has directed you to a photo of Grovewell Cottage. There are two Pithaynes, Higher – which is quite high status building and Lower Pithayne. If you have a copy of the census record which shows the entry for your ancestor and his family I might be able to identify the dwelling more readily. If you ever find a link back to my "Popes" please let me know. Charmouth, Lyme and Seaton are all coastal villages not far apart.
| | | |
| --- | --- | --- |
| | | |
| Dave Johnson replies: Here is the 1871 Census record with Joseph Pope (4th Great Grandfather) at aged 80 living with his daughter and family in what I assume is a lower Pithayne Cottage. Earlier censuses have him living in Axviney Cottage and 5th great grandfather John Pope in Grovewell. Peter, thank you for the link to the photo. Funnily enough, the photo was how I found your website in the first place. I was searching for the various addresses I'd found on the various 19th century censuses and found the photo which then brought me to the wonderful website. | | 1871 Census record |
Peter Tarrant writes: Thank you for your comments. Steve and I are very pleased that the website, and the Ancestral Searches page in particular, is proving so useful. On Photograph Page 8 I have posted a few shots of Lower Pithayne, firstly from a southerly aspect, then from the east.
---
Ancestral Search 16
---
July 2019
Hello. I am asking if you can help with a bit of tracing on the maternal side of my family tree. As you see my name is Angus Passmore. My maternal grandfather was Alfred Samuel Lawrence born it appears in Yarcombe around 1883/84, his father was Alfred Richard Lawrence and his mother Rhoda or Rodha (as it appears on the 1861 Census). It would seem that my grandfather may have been born outside marriage as the birth is registered in both names? Rodha was born in Yarcombe around 1850/51. Her mother (my GGGGM) was Charlotte Spiller born 1820/21 again in Yarcombe, she is listed as widow in 1861 Census. Rodha it appears had two sisters and one brother. In addition there are three other males listed on the Census, two of their job descriptions would indicate farm workers. Unfortunately the address is unclear but the last word could be "farm" but that is only an educated guess. Any information would be gratefully received. Regards, Angus Passmore
(07834 547406)
Steve Horner writes: Your enquiry on the Yarcombe website is most interesting and I am certain we can help you. The entry in the 1861 census can be read as follows:
| | |
| --- | --- |
| Livenhayes farm: | |
| | Charlotte Spiller aged 41 Widow farmer of 20 acres employing I man and 2 boys born Churchstanton |
| | Rhoda daughter aged 10 |
| | Thomas son aged 4 |
| | Thomas son aged 2 |
| | William Locke aged 77 Boarder (in fact Charlotte`s father) |
| | William Pavey aged 18 |
| | William Locke aged 20 Cattle man |
Please see this extract from Ruth Everitt`s history of Yarcombe "From Monks to the Millennium":
LIVENHAYES (also known as Levenhays or Livehayne)
This is one of the oldest surviving properties in the Parish, dating from the early sixteenth century and constructed of local stone and flint rubble with Beerstone ashlar chimney shafts. It began as an open hall house, (see foreword), heated by an open hearth. The hall was probably floored over in the late sixteenth - early seventeenth centuries and the partition in the original jettied chamber includes the ladder access doorway, which is a two-centred arch with moulded surround. The high standard of modernisation in the sixteenth and seventeenth centuries was probably ordered by the owner/occupier Samuel Newbery. A plaque dated 1662 with his initials carved on it can be seen in the chimney shaft at the service end of the house. Was this the same Samuel Newbery who had been seen in Monmouth"s Camp in 1686? He was eventually pardoned, but at what cost?
In 1600 there were two Livenhayes. Alice Helliar, (widow), lived in one and John Pullen and Maude Browinge were the occupants of the other. Both properties paid a tithe of 8d. The 1727 Land Tax Survey shows Robert and Susanna Newbery as the two owner/occupiers. By 1794-5 the Yarcombe Estate owned Higher and Lower Livenhayes. The will of Robert Newbery made in 1748 doesn't show either of the Livenhayes - but perhaps the Newbery support for Monmouth led to impoundment of property or large fines. The Livenhayes were valuable property, the saleable timber being worth a total of £362. 16s. 9d. and comprised of 146 oak, 186 ash and 23 elm.
Lord Heathfield is shown as the owner of the "Two Livings" in 1810, and John Burrow is the tenant. There was a change of tenant by 1832, when Abraham Spiller was farming the two Livenhayes and Broadley. In the 1850 White's Directory Charlotte Edwards (widow), was the tenant. She took in a lodger, one of the under-steward/gamekeeper's sons, who was handicapped with a "gammy" leg. The Estate paid Mrs. Edwards 3/- per week for his keep. In 1896 Thomas Spiller was the tenant and it was during his tenure that 5 acres of land slid away. The Estate gave him an allowance of 5s. per acre on his rent.
The Yarcombe Estate sold the property in 1931, when it was described as "a Choice Dairy and Stock- Rearing Farm of 84 acres 3 rods 1 perch". The Farmhouse had an entrance lobby, living room with open hearth, sitting room with a fine oak mantel, together with a beamed and quartered ceiling and a cool dairy. Upstairs there were 4 Bedrooms and a Cheese Room. The sitting tenant was Mr. P.R.Rich. It remains with the Rich family and provides one of the best examples of a medieval house in the area.
Livenhayes farm house is a most wonderful old building which has recently been sold. At that time it was owned by Lord Heathfield and thus Charlotte was a tenant farmer. Charlotte seems to have been a most redoubtable lady who lived to a great age and who married on several occasions. There are still several Spillers living hereabouts. She was born on 21st May 1820 in Churchstanton Devon - a neighbouring parish to Yarcombe - daughter to William Locke and Betty? I think her first marriage was to ? Sparke in Honiton in the 1st quarter of 1846. However her first husband must have died quite soon after this marriage and she then married Thomas Spiller on the 3rd June 1851 in the Parish of Wilton Somerset.
We can then deduce from the 1871 census she was married to Robert Edwards aged 70:

She was still living at Livenhayes in 1891 with Robert's three children and two of her own, Naomi and Thomas. I suspect that this marriage to Robert Edwards took place in Exeter in the 2nd quarter of 1862. She was still living at Livenhayes in 1891. She possibly died in 1894.
Now turning to the Lawrence side of the family, Alfred Richard Lawrence married Rhoda Spiller in 1871 and in the 1871 census they were living in Combe St Nicholas. In the 1881 census they were living in North Common Cottage Yarcombe (just below my farm) with three children, Pamela 7, Elizabeth 5, and Ernest 3. In the 1891 census only Alfred is mentioned (I assume Rhoda had died by this date) with his children Pamela 17, Ernest 13, and Samuel aged 7, a perfect fit with your suggestion. He was born in about 1883 but I would warrant he was not born outside the marriage! Do you have a copy of his birth certificate for me to examine please?
Altogether a fascinating part of our village history. I do hope that this is helpful.
Miranda Gudenian adds: Livenhayes was mentioned in Pevsner; a most beautiful ancient house.
Angus Passmore responds: Thank you very much for your detailed response, you have filled in a lot of blanks in regards to my ancestors. I think it may well warrant a visit to Yarcombe in the near future. Incidentally a long time ago we lived in Dunkeswell without being aware of how close it was to the family history. Alfred Lawrence my grandfather married a Seaton girl Alice Stembridge who was the daughter of Sam (Long Service RN) and Emelia (Nee Bull, a Crewkerne family). Alfred went on to fight and survive WW1 as a Royal Engineer in Mesopotamia, after which he became a builder in Seaton and constructed several properties that still exist in Seaton. He eventually died of Addison's disease potentially triggered we think by Malaria contracted during WW1. Thanks again for all you help.
---
Ancestral Search 15
---
May 2019
Hi, very impressed with your site and your ancestry pages. My great grandparents x 4, Hugh Pavey and Joan Trenchard were married at Yarcombe on the 23rd June, 1797. They had two children William and Frances Pavey (my great grandmother x 3). Frances was baptised in Yarcombe on the 3rd August, 1800. Any information that you may have about Hugh Pavey or his family would be greatly appreciated. I have already been considerably assisted by Michael Haynes with the Trenchard family following his earlier post on your ancestry pages. Many thanks, David Thomas
Steve Horner writes: I will be very pleased to help you in any way possible with your researches. Let me begin by explaining that we are very fortunate in Yarcombe because much of the land in the parish has been in the hands of one family since the time of Sir Francis Drake who started accumulating land hereabouts since 1582. The estate records were deposited in the Devon County Records office in about 1950 and thus remain as a source of our knowledge, and from which my dear departed friend Ruth Everitt was able to compile her book "From Monks to the Millennium".
I therefore attach a scan (below) of the relevant pages of this history which contain references to the Pavey family and their land holdings. The first mention is of one Charles Pavey who was occupier of Broadley in 1600 so your family have been well embedded in this area for many generations. Let me know if I can further assist you, sight of your tree might give me some more clues.
| | | | | |
| --- | --- | --- | --- | --- |
| | | | | |
| | Document 1 | | Document 2 | |
David Thomas replies: Thank you so much for the very prompt response and the useful information provided. We have a lot to be grateful to Ruth Everitt for and people like you who are happy to share the knowledge of past records with others.
---
Ancestral Search 14
---
February 2019
Hi what a great site, thank you. I'm currently researching Pattimore and Dommett. I have a marriage certificate for James Pattimore and Caroline Dommett, married in 1892 in Yarcombe church. Any information regarding either would be fantastic thank you. Mandy Trimby
Steve Horner writes: Thank you for visiting the Yarcombe website. Like you, we are keen to learn more about those who have lived in our village. I can immediately provide you with two documents (below) that will help trace your ancestors.
| | | | |
| --- | --- | --- | --- |
| | | | |
| | Document 1 | Document 2 | |
The first is an extract from the record of Baptism in Otterford church. Caroline was baptised 16th July 1871, daughter of Thomas (a cobbler) and Louisa (? poor writing) Dommett. The second is a copy of the 1881 census for Yarcombe. Caroline is shown as living in Marsh - a hamlet in the parish of Yarcombe - with her mother, Louisa (now a widow) and her five siblings. Her father Thomas must have died within the previous two years - James her brother is aged 1. Her mother Louisa is shown as having been born in Buckland St Mary, an adjacent Parish in Somerset to Otterford. Yarcombe is also adjacent to Otterford but across the border in Devon. At this stage I cannot find any more about Caroline. However if you can scan and send her marriage certificate to me I can carry out more research for you into her husband James Pattimore. Incidentally how are you related to Caroline ?
Mandy Trimby replies: Thank you so much for that. Caroline was my great grandmother. I know she died at the young age of 43 in Taunton and James her husband was a coal porter in Taunton. Not sure how they ended up here though. I believe the witnesses were Fowler. Can't seem to find a birth certificate for James although he is in the workhouse in 1871 and 1881. Thank again for all your help. (Marriage Certificate below.)
| | | |
| --- | --- | --- |
| | | |
| | Document 3 | |
Steve Horner responds: Yes, you are correct - James was in the Union workhouse as a child in Chard in 1881 (Document 5). The mention of Union confirms that Caroline who lived in Union no5 in Marsh, that this was also a workhouse. In 1871 (Document 4) he was living in Crewkerne with his mother Sarah Jane Pattimore. He was aged 4 at the time and was born in Crewkerne. No sign of his father Simeon who perhaps had died?
I thought you may be interested to see the 1911 census (Document 6)
I guess you know the rest of your tree. If I find any further record of the Dommett family in Otterford I will let you know.
| | | | | |
| --- | --- | --- | --- | --- |
| | | | | |
| | Document 4 | Document 5 | Document 6 | |
---
Ancestral Search 13
---
December 2018
My name is Clare Evans. I am descended from the Spiller family in Yarcombe and more recently in Taunton. My mother's name was Heather Jean Spiller. I have started researching the Spiller family history and have got as far back as Robert Spiller, 1579-1617 of Yarcombe. His wife was Margere Colliar, 1583-1614. If you have any more information on this family, I would be very grateful to receive it. There is a family story that indicates that the Spillers may have come from the Low Countries as Huguenots, for religious reasons. I would like to find a copy of the local history book, if this is available. Clare Evans
Steve Horner writes: The Spiller family are one of the prominent names in the history of our Parish and there are still members of the family living hereabouts. I had a quick look in the book "From Monks to the Millennium" for early references to your family and below is an extract for your information which shows Zachary Spiller who left his properties of North Waterhayne and Crimshayes to his wife Alice. This suggest to me that the author of the book Ruth Everitt must have found a copy of his will in the Devon County Records office or in the National Archives in Kew, I am not certain if there is a connection to your branch of the family.
I also looked on Ancestry.com - of which I am a member - and noted that your family tree is there on open access. The father of your Robert Spiller (1579-1617) was John Spiller born Yarcombe 1528. married in 1578 and died in Yarcombe 1582. From this it is obvious to me that the Spiller family were classed as Gentry in those far off days and must have taken a important part in the development of our community. You may also be aware that Sir Francis Drake has a very close connection to our parish so your ancestors were alive when Queen Elizabeth rewarded Sir Frances with land in the parish in 1582.
I would be delighted to assist further with your researches, however it will need a stroke of luck to go further back than the birth of John Spiller in 1528. The book I refer to "From Monks to the Millennium" is now out of print but does occasionally show up on Amazon. I hope this helps, however if you do find yet more information about the Spiller family please post this on our website. Good luck!
NORTH WATERHAYNE
North Waterhayne once belonged to Zachary Spiller (gent). In his will he left his wife, Alice, his tenement at North Waterhayne and Crimshayes for life and afterwards to his son, John. In 1600 North Waterhayne is shown as two tenements occupied by Robert Spiller. It is combined with Farm Ground, whose occupants were John and Alice Spiller (widow). North Waterhayne Farmhouse is a Grade II listed building, constructed in the early sixteenth with later sixteenth and seventeenth century improvements. The original early sixteenth century house was of three-room and through-passage plan. Originally the house was open to the roof from end to end, divided by low partitions and heated by an open hearth fire. Around the mid sixteenth century the small inner room was floored over and a chamber added above; this was probably reached by a ladder. There is a fine intersected beam ceiling with richly moulded beams. The bedroom in the East wing had a built in toilet (garderobe) cupboard. The seat remains to date, although the floor has been made up underneath. Originally the waste dropped down through a cavity (still inside the wall) to the ground floor and into a pipe that went through the garden. This bedroom could be reached via a stone circular staircase leading up from beside the inglenook fireplace in the room below.

In 1727 Sarah Spiller (daughter of Zachary) was the occupier of Crymeshays. This was probably the site shown on the 1817 Enclosure Map in a field known as "Grimsey" on the left hand side of the driveway, just before the turning to the main farm yard. Thomas Bovett (-the Bovett family supported Monmouth-) was the occupier of the larger Estate, but by 1794 the Drake Estate owned all the properties at North Waterhayne; the saleable timber was 88 oak, 62 ash and 54 elm. The Land Tax of 1798 shows Bowyer"s Waterhayne tenant as William Jennings, who paid a tax of 2s. ½d, Smythe"s Waterhayne, tenant William Wale, who paid a tax of £4. 16s. 9½d. (this was the present day North Waterhayne) and Cross Waterhayne (Crymeshays), tenant John Seward, who paid £2. 14s. 8½d. By 1810 Cross Waterhayne and Smythe"s Waterhayne have been combined and William Jennings is the sole tenant. Bowyer"s Waterhayne is separately listed, but has the same tenant, William Jennings. The North Waterhayne driveway used to continue towards Crisland, bearing left half way along the drive and joining with what was once a larger road starting near Four Elms. The Estate still owns North Waterhayne and it was substantially modernised in the mid twentieth century. Waterhayne Cottage is on the left hand side of the entrance to North Waterhayne and was formerly a farm worker"s cottage; it is now privately owned.
Clare Evans replies: Thank you so much for your very informative e-mail. This has been of great interest to me and my family. I will try to pursue this further and intend to contact the Huguenot Society in order to try to establish whether the family came from the Low Countries originally. If I find out anything further, I will let you know. I would also like to visit Yarcombe and to see the house that Zachary Spiller left to his wife Alice.
Steve Horner responds: Delighted that we are able to help you. I have just looked up the derivation of the name Spiller:
English: occupational name for a tumbler or jester, from an agent derivative of Middle English spill(en) 'to play, jest, or sport' (Old English spilian). English: nickname for a destructive or wasteful person, from an agent derivative of the homonymous Middle English spill(en) 'to spoil, waste, or squander' (Old English spillan). German and Dutch: occupational name for a spindle maker, a variant of Spille with the addition of the agent suffix -er. In some cases a variant of German Spieler.
North Waterhayne farm, which Zachary Spiller left to his wife Alice, now belongs to the Sheafhayne Estate and the tenancy is due to change at the end of March which may give you an opportunity to look over the house at that time - if I can help please let me know. I also strongly recommend that you obtain a copy of the Will of Zachary Spiller from the Devon County records office. I set out below a copy of the Index of Wills held in Exeter - if you do obtain a copy I would be most interested to make a copy for my own records.
| | | | | | | | | | | | |
| --- | --- | --- | --- | --- | --- | --- | --- | --- | --- | --- | --- |
| Spiller | Zachary | Honiton | DEV | gentleman | 1687 | W | ab | | MUR1 | Vol. 31 | AJP Skinner bequest 1934 |
| Spiller | Zachary | Honyton [Honiton] | DEV | | 1687 | W | le | EXE | FRYA | W. | |
Key:
Type of Document: 'W' - Will, 'A' - Administration, 'I' - Inventory, 'O' - Other
Form of Document: 'or' - Original, 'co' - Copy, 'ab' - Abstract or Extract, 'tr' - Transcript, 'le' - List Entry
Please let me know if I can help further.
Also see Ancestral Search 20.
---
Ancestral Search 12
---
August 2018
I stumbled upon your excellent site whilst researching the Mullett family tree. They were resident at Whitehorns and Beacon farms. I see there was a Mullett mentioned in the memorial to those who lost their lives in WW1 in the Baptist church on the site. My father is registered as being born 3rd June 1919 at Beacon farm Yarcombe. My grandfather William Mullett (married to Grace Wakley) is registered as resident Beacon farm in 1911 census. The 1891 & 1901 census shows the Mullett family as registered at Pithayne Cottage. The 1861 shows my great grandfather Charles Mullett (married to Sarah Miller) registered at the Mill in Yarcombe. Evidently the Mulletts were long term residents of Yarcombe but I cannot figure out the relationship between the people and all these different residences. I have tried to track down a copy of the book, "From Monks to the Millenium" but it is out of print. I hope you can help. Kind regards, Chris Mullett

Steve Horner writes: Here is a map (click to enlarge) of our Parish identifying the various house/cottages where your family lived in Yarcombe. Yes you are correct, there is a W Mullett mentioned on the Baptist Chapel memorial, however this is an indication he served King and Country, he is not recorded as "Our Brave Dead". This may be your Grandfather William Mullett ???? Can you check the spelling of Grace Wakley please, it is confusing there are two families with different spellings Wakley and Wakely in our records. Just out of interest do you know when your family left the village ?

Steve Horner adds: Let me start with some historical background for you; a large part of Yarcombe parish was and still is held by one family, which started when Queen Elizabeth 1 presented to Sir Francis Drake a part of the Manor. The estate grew under careful management by Sir Frances` indirect descendants – Sir Frances did not have children. Whitehorns was part of the estate until it was sold with other properties in 1931 when the sitting tenant Mr F Mullett purchased the property. Up until about 1880 Whitehorns was an outlying part of the adjoining Parish of Membury which does cause confusion! In more recent times the Yarcombe Estate repurchased Whitehorns which is a beautiful thatched house nestling in a quiet valley. Please see the map (right) which indicates the properties where your relatives lived. I do hope we shall have more details about your family to post into our website.

Joan Berry writes: I think that Thomas Wakely may have been a relative of my Godfather (George Wakely, who was a Thatcher) but unfortunately I know nothing of his family apart from the fact that they were connected to the Mullet family of Whitehorns Farm.

Steve Horner adds: Below is a scan of the 1901 census covering Whitehorns which shows the Yarcombe Wakelys in residence. Up until about 1880 Whitehorns was an outlying area of Membury Parish. The Walter Wakely I am researching came into Yarcombe from Otterford and thus I suspect not connected to your family –all very confusing but very interesting none the less.

1901 Census:

Miranda Gudenian writes: Chris Mullett may be interested to know that one of his family, Bill Mullett, owned the house I now live in, The Beacon (as it became known in the 1970s). I would have to check our deeds but I think the house was sold after Mr Mullett's death in the early or mid-1950s.

Miranda Gudenian adds: If my memory serves me correctly Bill Mullett lived in one half of the house - which was turned into two cottages when the Estate bought the place in the late 19th century - and he let the other half. Again if my memory is correct Bill Mullett purchased the house in 1931 in the Estate sale of properties. Both Bill (Boy) Doble and Frank Wale remembered Bill Mullett.

Kirth Gensen writes: I've been going through several boxes of stuff I've inherited from my eldest brother and found this pamphlet and press cuttings about Yarcombe:

| | | | | | | |
| --- | --- | --- | --- | --- | --- | --- |
| | | | | | | |
| | The Yarcombe Story | Cutting 1 | Cutting 2 | Cutting 3 | Cutting 4 | |

Steve Horner replies: Thanks a million for all this information about our Parish. There is a lady in the village called Barbara Salter who remembers Mr Mullett from Whitehorns, and the processional cross for which he donated the wood is still in use in the church. The booklet is also most interesting. Barbara tells me that the author was Freddie Orchard who was the organist in the church in about 1969/70 and that Bishop John Armstrong, who had hand in the research for the booklet, was Vicar of Yarcombe at that time and was previously Bishop of Bermuda. This enabled me to trace Freddie Orchard through a genealogy website, and I came up with the following information:

Frederick Theodore A Orchard was a school master who was born on the 1st January 1904 and died in Honiton in the second quarter of 1982. His wife Gwendoline Mary Orchard was born on 9th December 1903 and is buried in the Yarcombe churchyard. Bishop John Armstrong was obviously quite a character. He was a chaplain in the Royal Navy for 28 years and rose to be Chaplain of the Fleet and served in this position from 1960-1963. Immediately upon his retirement from the Royal Navy he was consecrated Bishop of Bermuda in 1963 where he served until 1970. It can be assumed he then retired to Yarcombe where he was the Parish Priest for some years. He died in 1992. Barbara told me he was very high church but "we soon put him right about those practices !"

| | | | |
| --- | --- | --- | --- |
| I also attach (right, click to enlarge) a photo of your family gravestone in Yarcombe churchyard which you may find interesting. | | | |

Please keep in contact and if you require any further information I shall be pleased to help.

Also see Ancestral Search 17.

---
Ancestral Search 11
---
July 2018
What a find – the records of Yarcombe. I have traced the ancestors of the Trenchards from Sampford Moor in Somerset (my great grandparents) back to one John Trenchard in Yarcombe. I have approx dates of his birth, namely 1700, and death approx 1788, with records of his marriage to Mary Satterley m 14/2/1737, marriage to Sarah Spiller, m 30/10/1753, and finally, possibly, Elizabeth Board, m 5 Feb 1788. Although I have some dates of birth and death for these ladies, I would appreciate it please if you could provide these accordingly. Also their parentage. My biggest search however is for John Trenchards parents etc, as he is the last one my tree. Michael Haynes
Steve Horner writes: I have had a quick look at your enquiry. Trenchard is not a name which can readily be associated with the Parish of Yarcombe in East Devon. The records show John Trenchard did marry Mary Spiller - a local name - on 30th October 1753 - John's third wife. Have you tried looking at the Trenchard family of Charminster? Sorry I cannot help further, however if you have other clues please let me know.
Michael Haynes replies: Thank you for your recent reply expressing interest in what I have found out about Yarcombe Trenchards. I have attached a file (see below), which I hope you can open giving data on John Tenchard from 1700 down to the latter Trenchards from Yarcombe. If this works for you then I can put together more family descendants, who are not part of my ancestral tree, but nevertheless come from Yarcombe. Please let me know if you would like me to repeat the exercise for the other Trenchards.

Steve Horner writes: Michael, I am at present (Oct 2019) researching the history of my house and in the course of my work I have come across the name John Saturley who is mentioned in the Will of Henry Willie who died in 1792 (PCC PROB 11/1226). Henry Willie possessed land holdings in the adjoining parishes of Yarcombe, Otterford and Upottery amongst which he held Woodhayne (where we now live) variously called at that time Woodend and Woodhayes. In his will is"I give and xxxx to William Willie son of John Willie our cottage late Saturleys in North Common ….".

The estate map of 1809 shows John Saturlays in green on North Common (just below the right hand punch hole on the map below, click to enlarge). From your own family tree posted on Ancestry I note that the Saturley family originated in Bovey Tracey starting with Nathaniel (born 1605) who married Hannah Price; their son Simon was born 1672 in Yarcombe and Simon`s daughter Mary (born 1703 in Yarcombe) who married John Trenchard. Thus it would seem to me that the Saturley family were well established in Yarcombe from 1672 through to Mary (died 1747) and her siblings .

It puzzles me that there is no mention of the Saturleys that I can find other than the cottage which belonged to John Saturley mentioned in Henry Willie`s will. Perhaps you may have more information to hand that I might study.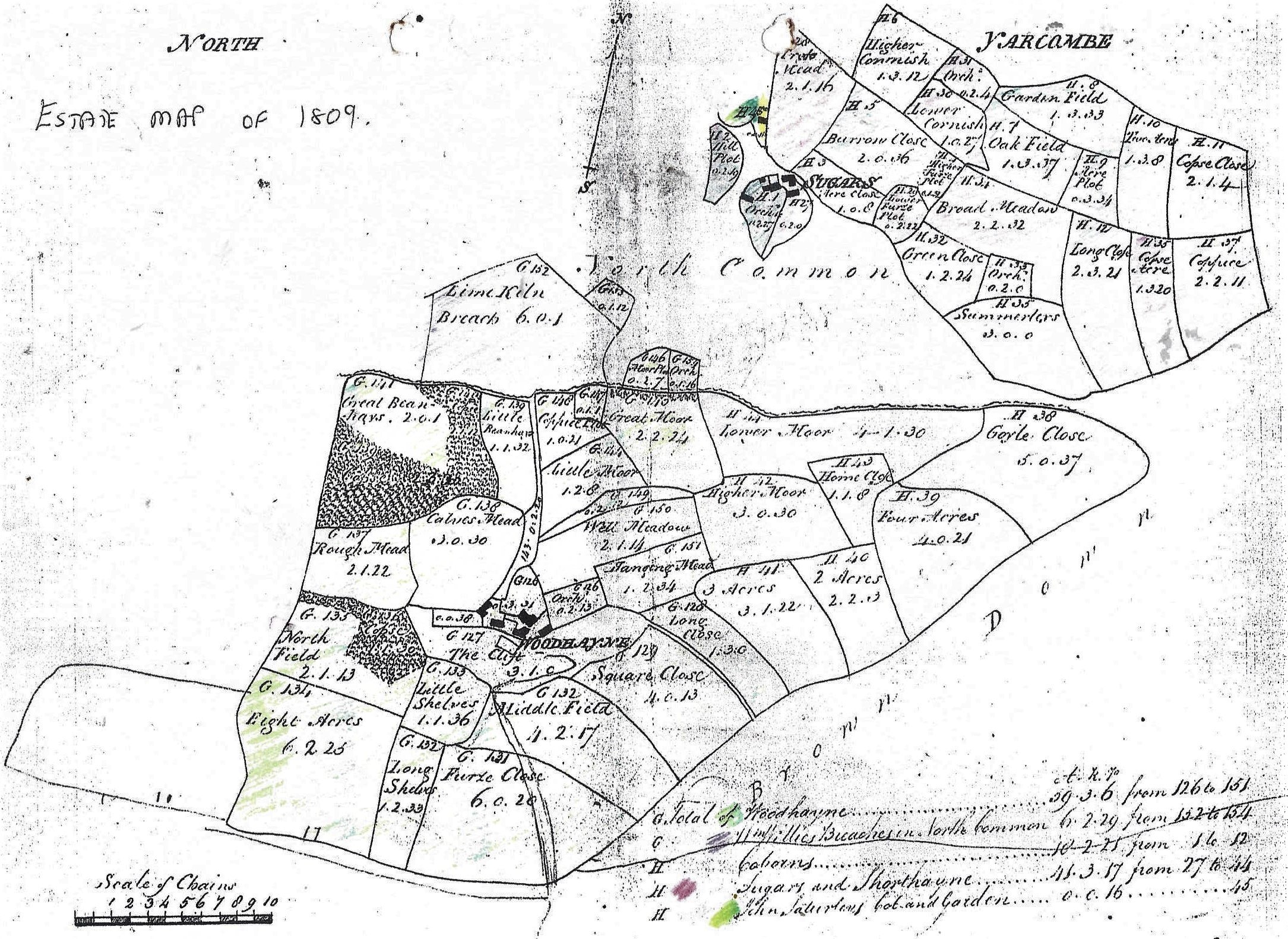 ---
Ancestral Search 10
---
June 2018
I am researching my husband's family and have just found the Yarcombe webpage with all the interesting information it contains. I was particularly interested in the Ancestral Searches page and the reply comments by Steve Horner to Lefayre Palmer's enquiries regarding the Spiller family ( Ancestral Search 6 ). My husband is Lyndon Spiller and below I give details of his family tree as far as we have been able to ascertain.
| | | |
| --- | --- | --- |
| | Timon (alt Tymon) Spiller 1743 – 1804 Yarcombe | |
| | + Sarah Moore 1729-1795 | |
| | ...... Abraham Spiller 1765 – 1834 Yarcombe | |
| | ...... + Elizabeth Clarke 1772-1842 | |
| | ............ Naboth Spiller 1802-1878 Yarcombe – died in Rose Cottage Chard | |
| | ............ Eliza Knight 1816-1905 | |
| | .................. Naboth Spiller 1845-1918 Combe St Nicholas died in Clyst St George | |
| | .................. Mary Warren 1851-1906 | |
| | ........................ Willliam John Spiller 1885 – 1975 Wandsworth Common/Clyst St George/Canada/ New Zealand/died in Melbourne, Aus | |
| | ........................ + Ruby Baker 1881-1977 | |
| | .............................. William Clarence Spiller 1918- 2010 Melbourne Australia | |
| | .............................. +Nada Veronica Tasker Burr 1916-2003 | |
| | .................................... Lyndon Stuart Spiller 1945- Australia | |
| | .................................... +Julie Lynette King 1947 – | |
I note that Timon and Abraham Spiller are listed in the Index to From Monks to The Millennium and wonder if it is possible to gain any further information about any of our family members. Any help that you can give will be really appreciated. Julie Spiller
Steve Horner writes: Once again I am delighted to be able to try to help you. There are still a good number of Spillers living hereabouts, however I strongly suspect their knowledge of the ancestors does not go back more than one or two generations! It would certainly be a coup if we could find a Yarconian (or is it a Yarcombite?) who is related to one of the Pilgrim Fathers. Do you have a copy of "From Monks to the Millennium"? If you do not please look at the index to any particular Spiller and I will scan the entry for you.
Julie Spiller replies: Thanks for your prompt response. No, I do not have a copy of the book but note that Abraham Spiller and Timon Spiller are both listed. Amy Spiller could be Abraham's daughter and there is also a Robert – but then there were so many Roberts in the church register that it could be any one of them. I am currently working my way through the register and finding that there were so many Spillers listed as well families who married into the Spiller clan. If you could scan a copy of relevant information for Abraham and Timon it may give me some background information. Unfortunately we will not be any help with your dream of finding someone who is related to the Pilgrim Fathers. Our grandfather left England later and finally settled in Australia – which is where we are living – even though my email may suggest USA.
Steve Horner replies: See Extracts 1 to 4, below. One reason that we know so much about our local history is that most of the land in the Parish belongs to one family, who are descended from Sir Francis Drake of Armada fame, and this family or perhaps their lawyers presented all the estate records to the Devon County Record Office. From a quick glance your family appear to have Baptist connections. The Baptist Chapel is still a thriving congregation. If I can help further please let me know.
Extract 1:
MARSH
During the nineteenth century Marsh was a "hive of industry". The Census of 1841 gives the following trades, all based in the village of Marsh:-
Richard Wyatt - Baker. James Glade - Horse Keeper, John Stone - Wheelwright, William Spiller - Baker, Thomas Stone - Blacksmith, John Spiller - Horse Keeper. Thomas Hurford - Carpenter.
There would have been no shortage of employment with a major coaching inn, "The Heathfield Arms", close by. The group of cottages opposite "The Flintlock" was once used in conjunction with "The Heathfield Arms". One of the middle cottages, known as "Wayside", had a large archway and, although this has now been blocked, remnants of the composite stones can still be seen. Originally the carriages were able to pass through the arch and make an overnight stop. Sleeping accommodation was provided in rooms immediately above the arch for the Coaching Company"s employees. An Indenture of 1835 shows that there was a dwelling house, smith"s shop and office and a messuage, dwelling house, wheelwright"s shop and office on a piece of land known as "Lower Shop Close". The cottage next door to "Wayside" is known as "Lower Shop Cottage" and at the opposite end of the terrace is a cottage known as "The Old Forge". Probably these are the premises referred to in the Indenture. On the other side of the Marsh road there are two other older cottages, Ivy and Rose Cottages. Latterly one of these was inhabited by Sparke, who was a carpenter, so maybe they were the two cottages listed separately on the 1841 Census sheet, housing J. Spiller and T.Hurford, but there can be no certainty. Lye House was once the home of the garage owner, Douglas Leach. The other properties on the Marsh road are listed separately.

MARSH CHAPEL (now Old Chapel House)
It was in 1849 that services were held in a house lent by Timon Spiller. After two months the house became too small for the congregation and the spacious club room was taken, the rent being paid by a Mr. Crabb and a friend. The building was legally licensed so that the services would not be interrupted.

In 1854 the Meeting House was erected on behalf of the Yarcombe Baptist Church for the sum of £4. The trustees were mostly local:- Joel Knight - Yeoman, Richard Coleman - Yeoman, James Knight - Yeoman, Charles Crabb - Cooper, Henry Bayell Lockyer - Yarcombe (Minister), William Bond - Yeoman, Chardstock and Richard Keeping, Chard. Services were held regularly until the Chapel was closed in the 1970s. The property was sold in 1981 and is now the Old Chapel House.

Extract 2:
BROADLEY
Broadley was mentioned in the Court Rolls of Henry VI and the name is probably a corruption of Broad Lea (wide clearing and field). Charles Pavey was the occupier of the tenement and cottage at Broadley in 1600. The tithe he was required to pay was 8d. The owner in 1727 was Robert Newbery and in 1798 Broadley was combined with Brimbley. Timon Spiller was the tenant of Lord Heathfield. It was noted in the Estate Timber Survey that Brimbley house needed repairs and that there were 46 oak, 54 ash and 16 elm on the properties. In 1810 Abraham Spiller was the tenant of Broadley and Brimbley and it was in 1827 that Greenwood"s map showed an asylum clearly marked close to Broadley. However, no documentation has been found to support the location of such an establishment there. It could have been a private secure house, but there was an asylum at Broadhayes, Stockland, so perhaps it was an error by the mapmakers. Abraham Spiller was still the tenant in the Electoral Roll of 1832-3, when Broadley was shown as a rented estate of over £100 per annum. An interesting field name was listed in the crop book of the Yarcombe Manor Estate under Broadley; it was Higher Old Church of Bushams.
Two external stone plaques on buildings at Broadley Farm bear the initials of Thomas Trayton Fuller Eliott Drake, who inherited the Estate in 1813 and who showed great interest in its administration during the remaining 57 years of his life. There is some documentary reference to a fire at Broadley and perhaps some features in the kitchen bear witness to such an event.
The large fireplace has Hamstone jambs which support a fine and massive monolithic bressumer cut from the same material. Its girth is no less than 9ft. 6ins. and its exposed depth, 31ins. An ogee moulding is finely carved to soften the angle between the front planes of jambs and bressumer and those of the recess. The actual fireplace opening measures 8ft. 2ins. by 4ft. 6ins., and now holds a modern cooker. Carved into the upper left front of the stone bressumer is what must have been a small cuboidal cupboard, any earlier wooden fittings such as a door having disappeared long ago. Perhaps this was a cupboard for the storage of salt in pottery vessels? The style of the fireplace surround indicates a Tudor or early seventeenth century date, but it is unusual to find such a grand one in a farmhouse. Until relatively recently it had been covered in dark-coloured paint. The features which may bear out the possibility of replacement due to fire damage are the doors and the beams. The timbers in the kitchen ceiling are sawn rather than adzed and chiselled, as would have been the case in the Tudor period or the seventeenth century. They are not chamfered. In other words, they are typical of what might have been made in the early nineteenth century. The doors are mostly of the traditional farmhouse plank and batten type of the same period, with contemporary ironwork hinges and latches. Proof of these conjectured dates is the poker-burnt..... "1827" on the main door to the kitchen. In fact that year is indented twice on the same door, one image being upside down. Could it be that this celebrates completion of the work of restoration of a fire-damaged part of the farm?
Extract 3:
LIVENHAYES (also known as Levenhays or Livehayne)
This is one of the oldest surviving properties in the Parish, dating from the early sixteenth century and constructed of local stone and flint rubble with Beerstone ashlar chimney shafts. It began as an open hall house, (see foreword), heated by an open hearth. The hall was probably floored over in the late sixteenth - early seventeenth centuries and the partition in the original jettied chamber includes the ladder access doorway, which is a two-centred arch with moulded surround. The high standard of modernisation in the sixteenth and seventeenth centuries was probably ordered by the owner/occupier Samuel Newbery. A plaque dated 1662 with his initials carved on it can be seen in the chimneyshaft at the service end of the house. Was this the same Samuel Newbery who had been seen in Monmouth"s Camp in 1686? He was eventually pardoned, but at what cost?
In 1600 there were two Livenhayes. Alice Helliar, (widow), lived in one and John Pullen and Maude Browinge were the occupants of the other. Both properties paid a tithe of 8d. The 1727 Land Tax Survey shows Robert and Susanna Newbery as the two owner/occupiers. By 1794-5 the Yarcombe Estate owned Higher and Lower Livenhayes. The will of Robert Newbery made in 1748 doesn"t show either of the Livenhayes - but perhaps the Newbery support for Monmouth led to impoundment of property or large fines. The Livenhayes were valuable property, the saleable timber being worth a total of £362. 16s. 9d. and comprised of 146 oak, 186 ash and 23 elm.
Lord Heathfield is shown as the owner of the "Two Livings" in 1810, and John Burrow is the tenant. There was a change of tenant by 1832, when Abraham Spiller was farming the two Livenhayes and Broadley. In the 1850 White"s Directory Charlotte Edwards, (widow), was the tenant. She took in a lodger, one of the under-steward/gamekeeper"s sons, who was handicapped with a "gammy" leg. The Estate paid Mrs. Edwards 3/- per week for his keep. In 1896 Thomas Spiller was the tenant and it was during his tenure that 5 acres of land slid away. The Estate gave him an allowance of 5s. per acre on his rent. The Yarcombe Estate sold the property in 1931, when it was described as "a Choice Dairy and Stock- Rearing Farm of 84 acres 3 rods 1 perch." The Farmhouse had an entrance lobby, living room with open hearth, sitting room with a fine oak mantel, together with a beamed and quartered ceiling and a cool dairy. Upstairs there were 4 Bedrooms and a Cheese Room. The sitting tenant was Mr. P.R.Rich. It remains with the Rich family and provides one of the best examples of a medieval house in the area.
MOORHAYNE
In 1600 three properties were listed; a cottage combined with Cornhill and two cottages occupied by Elynor Witcombe (widow). In those days the road (or trackway) would have been well used.
HIGHER MOORHAYNE (also known as Legot"s Moorhayne)
Elianor Legett paid a Land Tax on a property on this site in 1727. It was usually included with Cornhill and sometimes the Land Tax was combined. In 1766 a Jacob Legget was killed by a horse and slide. (Slides were used instead of carts on steep slopes.) Could he have lived at Legot"s Moorhayne? In 1798 Widow Bond was the owner, with John Spiller as the occupier. It is probable that the Yarcombe Estate had a lease or mortgage at this time, as it is listed in the Estate Timber Survey with another cottage at Lower Moorhayne as having 10 oak, 17 ash and 4 elm ready for sale. John Spiller was still the tenant in 1810, but by 1832 Sir Thomas T.F.E.Drake had a new tenant, Hugh Crabb. He was a cooper and a shed near the house used to contain a large fireplace - could this have been where the barrels were made? In 1935 George Phillips, the village carpenter/builder, installed a cider press at Higher Moorhayne, which was sold by the Yarcombe Estate in 1931 together with 12 acres. The dwelling house was described as substantially built of stone, with stuccoed walls and slate roof and a lean-to tiled cider cellar. The buildings included a pound house, a small hard-bottomed yard and a cow house with a hay loft over.
Extract 4:
THE BAPTIST CHURCH AND FOUR ELMS
In Calways Cottage Baptists were meeting as early as 1787. Four people were mentioned; William and Grace Trott, S.Knight and Maratha Crabb.
It was Samuel Vincent (Senior) of Churchstanton who was responsible for the erection of the Chapel, and the builders were the Trott family. There were 12 trustees and local names were William Wale - Farmer, Yarcombe, James Trott - Mason, Yarcombe, Abraham Spiller - Farmer, Yarcombe, John Trott - Mason, Whitestaunton, Samuel Vincent (Junior) - Farmer, Churchstanton and Samuel French - Farmer, Dalwood. Others were from Chard, Taunton and Wellington.
The Indenture conveying the site on which the Chapel and three houses, (the Manse, Mount Cottage and Chapel Cottage) were built was dated 15th May 1829. It was between Betty Bishop of Yarcombe, Widow, and John Wale of Yarcombe and the twelve trustees, and is in the following terms, "All have contracted and agreed together for the absolute purchase of the fee and simple inheritance of the piece or parcel of land herein after described, being part of the said close called Four Elms at the price of £12. 10s. and the said trustees having erected a Meeting house to be kept and enjoyed and used as a common free and Public meeting house of Particular Calvinistic Baptist."
One rule was that no person should be buried within the said Chapel. It was James Trott, one of the first trustees who lived at Newcott, who was buried outside the chapel front door. This was the spot where he used to stand to shake hands with the congregation. Seating will now accommodate about 100 people, and the baptistery is under the front of the pulpit. There are two memorials for those who gave their lives in the First and Second World Wars. The 1914-1918 memorial also contains 80 names of those from the Parish who served for a temporary period?
Julie Spiller replies: Thanks for the help on the Spiller family. It has been most useful. The information on Brimbley, Broadly and Livenhayes was most interesting. I am now following down the families of the wives of the Spillers. Abraham Spiller married Elizabeth Clarke – daughter of Naboth Clarke. I am wondering if your helpful book – or any other source - has information on Naboth Clarke or any other members of that family. Naboth Clarke and Elizabeth Stickland married in April 1770 at Yarcombe. I believe that Naboth and Elizabeth had at least seven children - Elizabeth, James, Richard, Mary, Grace, James and Sarah between 1772 and 1781. I believe that Naboth died around 1784. Elizabeth Stickland's parents were John Stickland and Mary (?Dean). Abraham's son Naboth Spiller married Elizabeth or Eliza Knight daughter of James and Elizabeth Knight. I note that on page 50 there is reference to James Knight being one of those who were trustees of the Yarcombe Baptist Church in 1854. Any further information you may have on any of these will be really appreciated.
Steve Horner replies: I am delighted to be able to help you. Herewith information on Naboth Clarke, Extract 5, below. The author of the book, Ruth Everitt spent time in the Devon Records Office so the letter which provided her with this information must be on file. Also information on John Stickland of Moorpit farm, Extract 6, who is almost certainly one of your forebears. Elsewhere another Stickland relating to 1832 can be found. Your reference on page 50 is to James Knight Marsh Chapel - Marsh being a hamlet in Yarcombe Parish - this chapel was closed in the 1970s. I am not certain where the original Charter can be found, perhaps in the records of Yarcombe Baptist church. If you can provide me with further details of Naboth Spiller marriage to Eliza Knight I will further research this line for you. The name Spiller is very common in these parts. I look forward to hearing from you again.
Extract 5:
Although the Drake family owned a large Estate at Yarcombe, there were other quite substantial land owners, notably the Newberys, Vincents, Stephens, Cossins, Bovetts and Spillers. Some of these families prospered, others disappeared; in those turbulent times it was necessary to be supporting the right religion, the right heir-apparent and remain healthy, in order to retain one"s property. Sir Francis must have taken quite an interest in his Estate at Yarcombe. Letters show that in 1709 he was greatly concerned about the appointed rector, Gamaliel Chase, who is described as being a drunkard and a debtor. As authorised in the original bill of sale for the manor, Sir Francis possessed the right to select the Rector for the Parish. However, perhaps he felt it was more politic, in those religiously volatile times, to keep quiet, as he didn"t pursue the matter, and the appointment remained with the Crown. The next Sir Francis, the 4th baronet, made little effort or impact. His son, Sir Francis Henry Drake, who inherited the title in 1739, was made of "sterner stuff". Consolidation and improvement of all his estates was his format.
Agriculture in England was undergoing a revolution: techniques had improved, there were better implements, and the land was beginning to be enclosed, so making farming a "fashionable" and prosperous trade in which to engage. (George III had a model farm at Windsor). It was at this time that some of the farmhouses in the Parish, such as Livenhayes, Underdown, North Waterhayne, Clifthayne and Coburns were improved and made larger.
Letters from Drake"s bailiff, John Cooke, who lived at Longbridge, show that Sir Francis was kept well informed about his Yarcombe Estate, although resident in London a great deal as Master of the King"s Household. The Estate at Yarcombe seems to have been let out on very commercial lines, with the bailiff keen to get the best rental, but also considering relevant factors such as time of year, fences or lack of fences and keep already taken by potential bidders. Great attention was paid to timber and orchards, both of which were valuable commodities. Several farms had land set aside as nurseries, in which to grow trees for sale later on. In one of Mr. Cooke"s letters there is a detailed description of an ash sapling that had been stolen, the top half being left propped up in an upright position in the hedgerow! There must have been some rogues around Yarcombe at this time, because in the same letter he mentioned that Mr. Williams of Sheafhayne had been to see him about the prevalence of the night-hunting of hares. Sir Francis had already offered a reward to bring the poachers to justice; now several Yarcombe worthies wished to join with him, Thomas and Robert Newbery, John Williams and Naboth Clarke being the most prominent.
Extract 6:
LOWER MOORHAYNE
Benjamin Bright was the owner of this property in 1727 and it was probably the same Benjamin Bright who was documented in a marriage settlement of 1716. Moorhaine, Jonathan"s Plot and part of Sellwood (an orchard) was the settlement that Benjamin Bright, sergemaker, offered to Peter Roberts, a clothier in Exeter, for Mary Robert"s hand. In exchange Peter Roberts gave Benjamin Bright £200 and his daughter. The Land Tax Survey of 1798 shows a tenement and a cottage at Lower Moorhayne. Southcott"s Moorhayne and Southcott"s Town were both named after the owner, Jane Southcott. By 1810 Lord Heathfield had acquired the properties and his tenant was John Spiller. More land was added to the property by 1832 when James Knight was the tenant. In 1931 Lower Moorhayne was sold by the Yarcombe Manor Estate, when it was described as a dairy farm of 62 acres. The farm buildings were around a courtyard and there was a pound house with an apple loft over, cow stalls for 17, and by the road was a 3-bay cart and wagon shed with a thatched roof. There is no real indication as to where the cottage was sited, but in a nineteenth century O.S.map there were two cottages shown near the present-day "Hamperlands" which were marked as "Moorhayne Cottages".

Roger Perham writes: Julie, I have just revisited the excellent Yarcombe Ancestry page and read, with great interest, your communication with the researchers there. It is clear that your husband and I share a common ancestor in Naboth Clarke (my paternal ancestor married Elizabeth Clarke's sister Mary). If you are still involved in the research I would be interested in hearing from you. Thank you. Roger Perham
Julie Spiller replies: Hi Roger, I am currently spending more time on my own family history research – but I do hope to get back to the Spiller/Clarke research. Not enough hours in the day! I would be happy to hear from you and follow through. Julie Spiller
---
Ancestral Search 9
---
June 2018
I am researching my maternal family side of the family tree. My grandmother Harriet Carter, according to census records was born in Yarcombe in 1905. Her father was called Jabez Carter, her mother was Bessie, and she had two sisters Eva Dorothy and May and one brother Frederick George who are also recorded as having being born in Yarcombe. I wondered if anyone knew where the Carter family lived in the village and any other interesting information about the Carter family. Thank you for your assistance, Ana Collingridge

Peter Tarrant writes: Dick and Dorothy Carter passed away some time ago but lived in a small cottage called Cornhill, on a road to the south off the A30. If this turns out to be relevant I can point out some photos of the building on the Photographs pages. The new owner has made (and is still making) extensive changes since, though. I have alerted our local expert Steve Horner, so you may hear from him soon.
---
Ancestral Search 8
---
January 2018
Hi, my name is Jennie. I have been doing research into my family tree and am looking for any help that anyone may be able to give me. I am currently trying to find any information on the Lenthal family of Yarcombe in Devon. I know that Ann Lenthal was born in 1734 and my 6 times Great Grandmother. She died in 1829 in Yarcombe. I know that she married John Loosemore of the same parish born 1730. I am looking for information on her parents. I believe that her mother's name may have been Jane. I have a rare genetic variant called G-Norfolk and am trying to trace my ancestry as it means that I am of Mediterranean and African origin. I am wondering if the Lenthal family may be the key to solving the mystery. Thank You, Jennie Brock
Steve Horner replies: I cannot help on Lenthal side, however it would appear that the Loosemore connection I may have more positive information. There is a farm in the northern part of our Parish, called Northam's which has belonged to the Yarcombe Estate for many generations – the estate was founded by Sir Francis Drake. In 1798 the Tenant was John Loosemore and between 1810-1832 the tenant was James Loosemore. If you can send me a link to the Yarcombe lineage of your family I may be able to help further, indeed you may wish to see a map of the parish which I will willingly send to you. There is one other clue with which I may be able to assist. In 1580 the Zane family lived in the house I now own and it is believed this family originated in Venice. Perhaps this may be where your genetic G-Norfolk gene came from? Who knows – it's a long shot. For reference, also see Ancestral Search 4.
Diane Rees writes: Jennie, I read with interest your message on the Yarcombe website and your search relating to your ancestors. I too am researching my father's family who came from Yarcombe and I have found the gravestone in the Yarcombe cemetery belonging to the Loosmore family. My research shows that Ann and John married on 22 March 1758 and John died 7 February 1815. I can go back as far as the 1630 and Anne Lenthal is on my family tree. I found a direct link to Ann and John in the parish records registering the births, marriages and deaths. One of their children James Loosmore married Elizabeth Pratt and one of their sons Robert Loosmore (my great great great grandfather) married Elizabeth Hopper in Bridgend, South Wales and one of their sons, Robert married Emily Russell whose son Joseph Loosmore (my grandfather) married Margaret Lloyd (my grandmother). History tells that two of the Loosmore brothers went to Bridgend, South Wales in the early 1800s and my father's family is from this link. I was born and lived in Swansea, but moved to Devon in the 1970s. It would be good to get in touch. I look forward to hearing from you.

Diane Rees (nee Loosmore) dianerees21@gmail.com
Peter Tarrant writes: Ancestral Search 22, received in December 2019, makes reference to the surname Lentell or Lental. Let us know if you believe there is a connection worth investigating.
---
Ancestral Search 7
---
January 2018
I have just come across this site and wonder if you can help me find out who my Great Great Grandmother's parents were. Her name was Sarah Vincent from Yarcombe - she married William Hodges on 21/2/1821 at Ruishton. I found the Marriage Certificate but there were only two names as witnesses - Abraham Grabham and Harriet Hobby, so a bit of a dead end. These names are not in the Hodges family as far as I know. My maiden name was Hodges. It's a bit of a long shot but maybe if there are any Vincents still around there who possibly did some research I would love to hear about it. Regards, J Hignell
---
Ancestral Search 6
---
November 2017
I am researching my Spiller family of Yarcombe Devon and have just come across the wonderful publication of Yarcombe Voices. It is wonderful to learn of people who endeavour to keep alive the history of their community. The earliest Spiller I have is one born in 1553 in Yarcombe. He had a son Robert whose son William married Joane Warren, daughter of Edmund Warren and Mary Warren. I am coming across pedigrees taking Mary back to Richard Warren a Mayflower Pilgrim. I am descended from Jane on the attached file (reproduced below). It would be lovely if I could be in contact with any Spiller or Warren descendants still in Yarcombe and to discover if any of them have any knowledge of a supposed descent from Richard Warren who went to America as a Mayflower pilgrim. Having also discovered the website Yarcombe.net I am impressed with this great and wonderfully presented source of information regarding the home of my ancestors. In grateful anticipation of any help you are able to afford me. Sincerely, Lefayre Palmer nee Heslehurst
My ancestry comes to me through my paternal grandmother Laura Elizabeth Heslehurst nee Wilkinson.
Outline Descendant Report for William Spiller:
| | | |
| --- | --- | --- |
| | 1 William Spiller (1572 - ) B: 1572 | |
| | + Elizabeth Gammmon | |
| | ...... 2 William Spiller (1614 - ) B: 1614 | |
| | ...... + Joane Warren | |
| | ............ 3 Simon Spiller (1655 - ) B: 1655 | |
| | ............ + Elizabeth Newberry ( - 1696) D: 1696 | |
| | .................. 4 Thomas Spiller (1693 - ) B: 1693 | |
| | .................. + Honor /Robert Weard ( - 1794) D: 1794 | |
| | ........................ 5 Robert Spiller (1747 - ) B: 1747, M: 1767 | |
| | ........................ + Mary Clarke (1748 - ) B: 1747/48, M: 1767 | |
| | .............................. 6 Jane Spiller (1798 - 1870) B: 1798, M: 1815 in Charles Church, Plymouth, D: 1870 in Ford Park, the Barbican, Plymouth | |
| | .............................. + William Reburn (1792 - 1872) B: 1792 in Liskeard, Cornwall, M: 1815 in Charles Church, Plymouth, D: 1872 in Ford Park, the Barbican, Plymouth | |
Steve Horner writes: I have just read your note posted on our website and in this message I will try and give you some initial information about Yarcombe which has a rich and interesting history. There are indeed members of the Spiller family still living in our Parish and the Parish records are littered with reference to them, but as far as I am aware not one mention of the Warren family. There is a very good book that records the history of Yarcombe, "From Monks to The Millennium" written by Ruth Everitt which I helped her compile and below is an extract of the relevant section of the index which demonstrates the multitude of references in the book to the Spiller family - if you spot a particular name of interest I would be pleased to send you more information:
Spiller, 12, 14, 17, 36, 39, 41, 45, 49, 50, 76, 86, 89, 107, 108, 112, 115
Spiller, Abraham, 106, 117
Spiller, Amy, 41, 112, 113
Spiller, Benjamin, 54, 78
Spiller, Charles, 95
Spiller, Henry, 14, 17, 32, 36, 45, 47, 98

Spiller, J, 39, 49, 107, 108, 118
Spiller, Josias, 64
Spiller, Robert, 34, 54, 63, 66, 74, 75, 78, 86, 99, 103, 111, 113, 120
Spiller, Timon, 50, 96
Spiller, William, 41, 49, 54, 57
Spiller, Zachary, 75
Basically our community is a rural parish in East Devon comprising about 500 persons in widely scattered farms. The ownership of much of the Parish goes back to the time of Sir Francis Drake whom as a reward for helping Queen Elizabeth 1 was given tracts of land hereabouts and the ownership has remained in the same family, but not direct descendants, ever since. I have also spotted the name Newberry which family also owned land in the south of the parish in the 17th century.
You have hit upon a rich vein of history and if I can I will assist you further. I would appreciate some more background of your own family and of course the important connection to The Mayflower Pilgrims.
---
Ancestral Search 5
---
I am hoping that someone out there could give me any information about my grandmother's family the Paull's of Yarcombe. Any help would be gratefully received. I have several photos of the Paull family, particularly of my great great grandfather (pictured left) on an early 1900s postcard with the caption printed on the front "Yarcombe's oldest parishioner". The Paull's were connected to several other Yarcombe families such as the Bright, Harris and Vincent family.

Ellen Hawkins (nee Harris) is connected to the Paull line via the Harris family. My great grandmother was Mary Jane Harris (married to Thomas Paull). Not exactly sure what relation that would make Ellen to me, but we are connected somewhere along the line.

James Paull, 1824-1914

Sep 2017
Hawkins family Stockhouse Yarcombe
Hawkins family details
Ellen Hawkins Stockhouse Yarcombe

Steve Horner writes: I have had a quick look at the census records and in 1911 James Paull was living in Crislands which is a cottage about ½ mile from the centre of the village. According to the 1901 census he was living in Webble Green just across the Yarcombe Parish border In Membury. The photos you sent are quite exceptional especially of the pig cull, all the family obviously taking part - my guess is that the photo was taken in about 1900. I do not recognise the farm , so I suspect it may be in Membury - I will make enquiries.

I know an Accountant who lives in Chard called Ed Paull, perhaps he is a relation? The name Paull with a double ll is perhaps unusual. Do you have any knowledge of your family tree?


Alan Bartlett replies: Thank you very much for the info, Steve. The Paull family are definitely more connected to Membury than Yarcombe, but like you said, the border between the parishes is very close. I have done a fair bit of research into the family history. The family has some connection to a few Yarcombe families through marriages. I had a chance to have a look at the gravestones in Yarcombe churchyard and noticed several family names that I regonised (Bright, Harris, Hawkins, Vincent etc). If you have access, you may care to have a look at my Spurway family tree on ancestry.co.uk. Interesting to hear about someone in Chard with the name Paull. The double L not being all that common, so I would definitely we must be related some where along the line.

The photo of the pigs being cut up is a great picture, so amazingly clear so that you can see incredible detail. (like the water running from tap into the tub in the background). They definitely weren't a family of vegetarians ... again many thanks.
---
| | | | |
| --- | --- | --- | --- |
| | | This photo is a bit of a mystery. Does anybody know where this was taken? I assume this is a farm building. Is it in Yarcombe or perhaps Membury? Who are the people in the picture? Does anybody know who they are or where it was taken? It has always intrigued me...even if nobody recognises it, it is still a great photo showing life in days gone by. | |
| | | | |
---
Ancestral Search 4
---
CAN YOU HELP ME TRACE MY LOOSEMORE RELATIVES?
My name is Gary Brennan; my mother's name was Millicent Loosemore, born to John Loosemore who was born in Yarcombe in 1865. I came here recently to retrace his steps to moving to the USA and in the hope of getting in touch with any other Loosemores in our clan in the area. If you know any and they would like to find out about John, please would you ask them to email me at:
garyb1956@comcast.net or 1(559)351-6165 by phone.
Thank you for your attention,
Diane Rees writes:
Gary, I sent you an email at the beginning of June (2019) with regard to your search for any Loosmores. My maiden name was Loosmore and my father's ancestors are buried in Yarcombe Cemetery. I am also writing up the family tree and in my research found a link to your mother. Perhaps you did not receive my email?
dianerees21@gmail.com
Gary Brennan replies: I want to thank you for your information, I did get your email and my own investigation in my family tree has taken me in a different direction. I have found that my grandfather's family in England is in Yarnscombe, Fremington, Atherington birth, death and burial records. My great grandmother (Mary Ann Moore) is buried in Yarnscombe with my great grandfather John Loosemore who died in 1865. I did not know that Yarcombe and Yarnscombe were not that far from each other and that they were so close in name. I want to thank everyone in Yarcombe who were looking into this matter and trying to help. This gives me an excuse to visit your beautiful country again. If you have any information on my mother, I would like you to send that information to me! This Loosemore family has to stick together! Haha. I enjoyed touring through England and Scotland, you have a wonderful country.
Steve Horner adds: I believe Yarnscombe is in North Devon near Barnstable, about 100 miles away as the crow flies! I would also mention Ancestral Search 8 in which Jennie Brock is also searching for a Loosemore relative, but she did not reply! We would always be pleased to learn more of Diane's (and Jennie's) relatives from Yarcombe.
---
Ancestral Search 3
---
I am a Bowyer from Canada, and am researching my roots to your beautiful area, does anyone you know have any suggestions for me? Sad to hear about the Inn, it looks great!

Chris Bowyer
Canada
---
Ancestral Search 2
---
March 2011
Researching my family history I have an ancestor called William Michael Laurence (1871-1954), who, according to his death certificate lived at The Vicarage, Yarcombe, as a retired fruit farmer. His wife was called Louisa. He died 29 March 1954. Please could you tell me whether there are any local memories of him or his wife? Thankyou for your time and patience. Kind Regards, Paul Brookes
Peter Tarrant writes: Hi Paul, your appeal has been on the website for some time now but I don't know if anyone contacted you directly. Going by the responses I got it seems no one has any real information, but I'll cut and paste the emails I've already received and forwarded to you below for reference. All verbal enquiries I made were met with blank faces I'm afraid. I'll leave the website entry here unless you want me to delete it.

Frank Weeks writes: Only thing I remember about the Vicarage is that there used to be a Filbert Nut tree on the front lawn. A filbert is a large hazel nut if I remember correctly. In order for young schoolboys to go raid the tree the method was to run to the tree, grab what one could and then flee before any retribution from anybody at the house as the tree was in full view. I don't recall anybody being caught. Though we were probably watched with amusement by the residents. One will never know. Frank (NZ)
Joan Ewins writes: At the time of the death of William Laurence the Revd. H.C. Thompson lived at the Vicarage. I remember from my childhood that Revd. and Mrs Thompson used to let some of the rooms at the Vicarage to a couple of retired ladies with the surnames of Freeman and Stanley. Perhaps Mr. Laurence had rooms prior to that. Shirley Briant may know as her mother seems to have kept in contact with past Vicars. I hope this is helpful. Kind Regards, Joan Ewins
Lesley Sutton writes: The Churchwardens could look in the chest to see whether he was buried here. Unfortunately there are not many of us who lived in the village and are still alive. Shirley Briant has lived here all her life and John Salter of course may have some knowledge. Neither have internet access.
Paul Brookes replies: Thank you for all your hard work on my behalf. I have not had any responses from it but I am very glad for the comments you have provided. In response to one of those I do not know whether he was buried in the local churchyard and would dearly like to find out. Please can anyone help me in that respect? Also, I would be very grateful to take up your kind offer of keeping the request on the site. Kind Regards, Paul

---
Ancestral Search 1
---
March 2017
I wonder if you can help me? I am the Great Granddaughter of Mary Hurford who married James Willie in 1873 and who lived in Yarcombe at Holly Cottage. Many times as a little girl my Grandmother told me stories of her Mother who was a wonderful lady, she was not only a herbalist but midwife to the local people who would walk miles across the fields to ask for her help and advice. She was also a wonderful seamstress and gardener growing all her own herbs for her medicines. She also kept a pig and chickens so she was virtually self-sufficient apart from general supplies which once a month she would walk across the fields 8 miles there and back to Honiton to buy.
I grew up in Yeovil and my Grandmother and Grandad also moved there from Chard after they were married, so as a little girl I loved to hear all their stories.
A few years ago I tried to find my Holly Cottage but was not successful, I am enclosing some old photos for you to see, they are of my Great-grandmother, my Grandmother and her sister Sarah Ellen, also the cottage and garden, maybe, just maybe you will be able to tell me if the cottage is still standing! I would love to know. I now live in Teignmouth and am coming up to 76 years old (Mar 2017)!! It would be lovely to have some history to pass on to my children, Grandchildren and Great grandchildren!!
I look forward to hopefully hearing from you and thank you in advance.
Kind regards and best wishes,
UPDATE
It is believed the property referred to as Holly Cottage was more likely to have been Manning Common Cottage at Manning Common, close to Black Allers, a short distance from, and the other side of the A303 from Knighthaynes Farm and Cottage. Unfortunately the building was demolished, it is believed, in the 1930s, although this has yet to be verified. During investigations it was found that a great uncle of Joan's, Jack Willie, who was believed lost at sea during WWI actually died of pneumonia whilst still on active service in 1919 in Malta and a photograph of his grave there was obtained. Memorials, including one to J H Willie, can be seen in the Baptist Chapel here in Yarcombe (see the World War I page).
---
---