The Home Guard & Evacuees' Page
This page owes its existence largely to Steve Horner who through dedication and extensive research has unearthed photographs and information covering wartime activity in the area. Several of his very interesting Yarcombe Voices articles, quoting several local and not-so-local residents, are reproduced below. This includes articles received from Frank Weekes (NZ) and Tony Bees (Australia) who share their wartime memories with us. Further Voices articles are also included, with thanks to Miranda Gudenian, the editor. Thanks also to John Salter for supplying some of the names!

There are also some interesting documents supplied by Will Rich, some of which are from the years between the two World Wars.

E company 19th (Seaton Battalion) Home Guard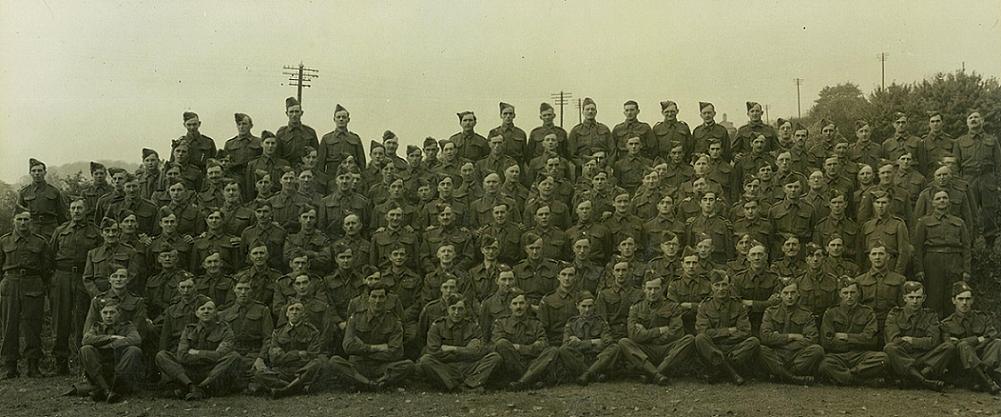 | | | |
| --- | --- | --- |
| | | |
| | | |
| | Front row: Dorothy and Jim Miller (r) | |
| | | |
| --- | --- | --- |
| | | |
| | | |
| --- | --- | --- |
| | | |
| | | |
| --- | --- | --- |
| | | |
| | | | | | | | | | | | | | |
| --- | --- | --- | --- | --- | --- | --- | --- | --- | --- | --- | --- | --- | --- |
| | | | Robert Rich | Jessie Jeffery | Reg Hatcher | Harry Goodland | Bill Podbery | Ed Harris | Jack Chaplin | | | | |
| | | | Livenhayes Fm | N Waterhayes Fm | Founders Fm | Drakes Arms Fm | Rosshayne Fm | Lr Pithayne Fm | Knightshaye Cot | | | | |
| | | | | | | | | | | | | | |
| Donald Parris | Ralph Salter | ? | ? | Reg Hutchins | Allan Miller | Fred Quick | Leonard Wyatt | Jack Turner | Bill (Boy) Doble | George Wakely | Charlie Bennett | Percy Clarke | Webster |
| Blackhayes Fm | Panshayne Fm | | | Williambere Fm | Liuggs Fm | Stout Mills | L /Moorhayne | Clifthayne Fm | Stonehalls Fm | Pounds Fm | Moxhayes Fm | Hillhoudr Fm | Hilltop |
| | | | | | | | | | | | | | |
| | | John Hodge | Jim Miller | Jack Anning | Frank Denning | Percy Searle | Roy Cross | Donald Denning | Fishy Drew | Fred Clarke | Sammy Hurford | | |
| | | Stout | Croakham Fm | Watchford Fm | Woodhayne Fm | Birch Cott | Elscombe Fm | Foxenholes Fm | Marsh | Smokey House | Birch Mills | | |
| | | | | | | | | | | | | | |
| | William Sparkes | Frank Bond | Will Harris | Major Vellacot | Fred Mogg | Harold Shire | Henry Derryman | John Clarke | Bill (Fisher) Doble | Bill Sparkes | Bill Phillips | Frank Baker | |
| | Village | Hr Pithayne Fm | Lr Pithayne Fm | Broadley Hill | Sheafhayne | Pounds Cott | Peterhayes Fm | Shutlands Fm | Stoneshells Fm | Marsh | Tillary | N Waterhayne Fm | |
| | | | | | | | | | | | | | |
| | | | Walter Townsend | Reg Burrough | Howard Turner | Frank Chaplin | Cecil Spiller | ? | Leonard Phillips | Bill Culmstock | | | |
| | | | Northams Fm | Hay Fm | Clifthayne Fm | Newcott | Littledown Fm | | Village | Grovewell | | | |
| | | | | | | | | | | | | | |
| | | | | | | | | | | | | | |
Thanks to Will Rich for the 1931 Deanery Magazine extracts above, the document left (Certificates of thanks) and also this 1941 letter to Henry Derryman, below

(click to enlarge in a separate window)

See more from Will Rich in
Evacuees at Woodhayne

From time to time there has been mention in The Yarcombe Voices of war time evacuees who have returned with their families to the parish and Phyllis Denning, daughter of the last tenant farmer at Woodhayne, had told us that there were two families billeted on the farm during the war. It was therefore to our great delight and interest that at Easter we were visited by Maureen Lawrence whose cousins, the Leatherbarrows had been evacuated to Woodhayne.

During the second World War when Hitler's Luftwaffe was inflicting terrible damage to the civilian population, more than three million children were affected by evacuation from their homes, but there was no such thing as a typical evacuee and every single experience was different.

Essentially there were three waves of evacuation in Britain. The first was in September 1939 when 1.5 million children were moved from the major cities to the countryside in the space of three days. The second wave came after the defeat of France in 1940 when, in response to the threat of invasion, over 200,000 were moved from the coastal towns. The third wave, affecting one million, came in March 1944 when flying bombs-or doodlebugs as they were nicknamed threatened London and the south of England.

When reviewing these numbers it must be remembered that evacuee children often drifted back home when the danger seemed to have passed, so these numbers are not necessarily cumulative

The Ministry of Health was the responsible authority for the evacuation process nationally, but their records do not include details of what happened in reception areas. There were no national records ever compiled of this great movement of our people. Host families were paid ten shillings a week if they took in one evacuee and eight shillings and six pence a week for each evacuee if two or more were taken in plus the child`s ration book. They were issued with a payments book and the money could be drawn from the local post office. Parents of evacuees were required to pay the money to the local council in their area in full, those who could not afford it were means tested.

Every parish or district was required to appoint a billeting officer whose duty it was to find billets for every evacuee, to visit them regularly and deal with any problems .The Billeting Officer was required to maintain a register which recorded the name of each evacuee, their date of birth, name and address of parents, date of arrival and departure and the address where they were billeted. Unfortunately not all these registers still exist, in some instances they have been deposited in a public records office or they remain hidden away and forgotten in someone's house.

All evacuees were required to attend school and in some instances these school records have been preserved and are a useful source of information. In fact the records for Bishopswood school which was attended by Yarcombe families living north of the A303, are to be found in the Somerset Records Office while the records of Yarcombe school seems to have been lost by the Records Office in Exeter.
A photograph of the class believed to be evacuees from St Anne's Roman Catholic Primary School, Lambeth, probably dated Autumn 1939.

Back Row: David Crump, _, Olive Druid, Miss Stringer, Nellie Williams, Teacher, Bill Webb, Patrick Sullivan.

2nd Row: Fred Crump, Rene Bates, Michael Sullivan, Ronald Wood, Peter Sullivan, Georgie Wood, _, _, Jean Crump.

3rd Row: _, Sheila Ellis, Nellie Sullivan, Lily McCartney, Ann Murphy, Pat Adams

Front Row: _, _, Donald Adams, Charley McCarthy, John Slattery
With the help of Phyllis Denning whose father lived at Woodhayne at that time, and a subsequent visit to the local Somerset Count Record Office I have been able to piece together this fascinating part of our Parish history with some accuracy. It began with a George Denning who built Hawthorne House on Bishopswood Hill in 1879, and whose family lived there for the following seventy years. This house is on the right hand side going uphill some 200 yards above the Candlelight Inn and is a substantial brick house built in the Victorian style and must have been one of the first solid houses in the village which stood out amongst the chert stone cottages which surround it.

But having set the scene, back to the main plot of the story; Maureen Lawrence explained that in the first wave of evacuees from London her Grandmother Ada Caroline Leatherbarrow and her sister Minnie Finch had been billeted on Herbert (Herby) Denning and his wife at Hawthorne House. Now Herby worked for his brother Frank Denning and his wife Millie who had taken the tenancy of Woodhayne at Michaelmas 1937 and had at that time three children Phyllis Roy and Ron.

It transpired that one day Millie Denning was visiting Herby at Hawthorne House and in passing asked the two evacuees Ada and Minnie if they knew any one else who might like to come and live in the safety of the countryside. The upshot of this enquiry was that Ada put forward the name of her daughter Ivy Leatherbarrow and her children Dennis aged 6 and Pam aged 18 months all of whom in due course who came to live at Woodhayne. The Denning family already had two evacuees from Bristol living with them who were called June and John Pople, later in the war their younger sister Millie also joined the household.

Today it seems quite amazing how 5 Dennings plus 3 Leatherbarrows plus 3 Poples all fitted into the house, and how "Aunt Millie and Uncle Sonny" as their new family called them coped with the influx. Doubtless extra hands helped with the farming chores but it must have been a huge effort undertaken with patience and cheerfulness. All accounts we have heard speak only of happiness and wonderful recollections.

The families remained firm friends and after the war the Leatherbarrow family, which included Maureen Lawrence all visited Woodhayne on holiday from London on at least three occasions and returned home laden with produce from the farm at a time when all food was till strictly rationed. The Poples from Bristol all enjoyed the countryside to the extent that all married into local farming families.

Maureen arranged for me to be sent some charming photos from both the war years and their holidays after the war. This series of articles will then be preserved for future generations which will remain record for posterity as these memories have down been written down before they are forgotten in the mists of time.

I am hoping that if anyone does have other names or recollections of this important part of the history of our Parish that they will send them to me or the Editor.

I can be contacted on 01460 234342

Steve@horner.uk.com
Evacuees at Woodhayne - a personal reminiscence

In previous paragraphs about Evacuees in Yarcombe I explained that we had been visited over the Easter holiday by Maureen and Dennis Leatherbarrow whose family had been billeted at Woodhayne during the last war. Since then research has continued apace, with much interest being shown by people who have contacted me with offers of help, Frank Weeks who now lives in New Zealand and who is a great fan of Yarcombe has helped considerably and I am now in contact with his cousin Quentin Newman who lives locally. Shirley Briant has provided some wonderful photos, letters and memories and told me about Ronnie and George Wood who came to the parish from Lambeth, a sad tale, because shortly after they returned home, they went to visit their grandparents and when they returned they found their own home flattened by German bombs which had killed their parents; Quentin Newman who is a good friend of Shirley, she describes him as almost a brother, has already started to try and find these Wood brothers by making contact with a South London newspaper "where are you now" column, and of course the indefatigable John and Barbara Salter have unearthed a quantity of information and a picture of the evacuees and their teachers; it will take me some time to sort and correlate this treasure trove.

However, back to the evacuees at Woodhayne, I received the following e-mail from Dennis Leatherbarrow which I have decided is worth publishing in the form below, it is very evocative and sets the scene only as his words can describe the situation in those hard times; I have also annotated where necessary:

Maureen gave me your Email address so I could get you updated on how we we got to know "Woodhayne Farm" & grown to have as part of my early childhood and lovingly always remembered. Let's start at the beginning shall we?

My Nan & her sister were evacuated to Bishopswood village, they lived in the house (1) next to the General Store & Post Office. which was near the village school. They lived with who we called Aunt Doreen & Uncle Herbie, (2) who worked full time on Woodhayne for Mr &Mrs Denning. It was mentioned that they would like to have a family from London as evacuees, so Nan said she will ask my Mum & Dad if they would like to go there, so in the middle 1940 we arrived there Mum, my sister Pam (18 months old) plus me @ just six years. From the word go, we were treated as one of the family & warmly welcomed from Uncle Sonny, Auntie Milly, daughter Phyliss, then Roy & Ronnie, Little Kay a few years later.

My very first impression & memory of Woodhayne was when we arrived it was pitch dark, the house was lit with oil lamps and candles, it was such a warm feeling. Mr Whynslade (3) picked us up from Taunton Station, I suppose he was the village minicab service in those days! We used also to go to him to get Uncle Sonny's wireless battery to be charged (a big heavy thing in a glass case) He would give us another in replace charged up. The wireless was only used for the daily news & weather forecast, so as not to use up the battery too quick!

There were two shops in the village, the Post office and off the main street in the village was the bakery, I cant remember the name, but the baker (4) was also the carpenter in the village, so he even became the Undertaker when required! I cannot ever recall his services ever needed. I should imagine his services were used but us kids weren't told of such things.

All the evacuees went to school in the village hall, (does it still have the corrugated roof?) (5) We didn't school with the locals, they had their own school. We were all different ages, so the teacher had to cope, I just don't know. All children were kept together for Sunday School always dressed in our best clothes.

The local farms nearby "Fox & Holes" you went through the forest by the "Northfield" Uncle Don (6) had that farm, related to Aunt Millie I think, the other farm we went through the quarry to "Whitebarn" (7). Also related to Aunt Millie, the old gentleman who lived with his family was known as "Old Drake". As you might know Sir Francis Drake owned quite a lot of land around the Yarcombe Parish, the family were connected with him as I was told they have connections with the Drakes Drum Relic.

From the war, we met the Americans training on the common by the crossroads for Honiton, Churchinford & Taunton. They use to spoil us kids rotten, sweets chocolate cigarettes to give to the adults. One GI asked my mum if he could adopt my sister Pam. Mum said not for a 100 fags! Do you still have that lovely apple in the Orchard? It was called "Plum Viney" shaped just like the name a large Plum (8). It was 3/4 down the orchard on the left aside by the field. I've never tasted a better apple!

I hope you like the update given if any more memories come to mind I'll send them onto you with photos from my sister Pam to come.

Best regards, from Dennis Leatherbarrow (Maureen's cousin).

Notes

1. Hawthorn House on Bishopswood Hill built 1879 by George Denning

2. Herbert Denning

3. The Winslade family still live in Beechcroft at the top of Whatley Lane Bishopswood

4. Mr Sumption ?

5. The old Bishopswood hall was indeed a corrugated iron building

6. Don Denning

7. Coburns ?

8. Sadly it no longer exists, but is this a local variety of apple ?

And just to finish a Post Script from Dennis following further correspondence with him:

You mentioned us crossing the county borders while travelling to school. That was my first lesson to learn at school. Also walking to school in the snow and falling into the drifts getting ringing wet. When arriving at school all our clothes taken off, putting a blanket around and sitting around the the big old stove like they have in the army barrack room. So snow is only nice on Xmas cards as far as I'm concerned, how people pay money to wallow in it I just don't know!

Uncle Sonny kept about twenty Devon Shorthorns for milking, William the Bull, also about a dozen Heifers, always about 6 calves a season. The bull gave service to a lot of the local farmers cows, they use to come from quite a distance at times. so you can imagine, at a very early age we kids soon learnt the facts of life very quickly!
| | | | |
| --- | --- | --- | --- |
| | | | |
| | | | |
Broadley Farm Evacuees - Reminiscences from Marian Rich

Mrs Florence Shelston (Flo or Florrie) to her children Wendy, Marian Anthony and Christopher, born during the war, known as Auntie Shelston; her husband was Harry (Shelly to men on the farm)-Uncle Harry to children. At first Mrs Shelston went to another home in the parish but wanted somewhere with an underground cellar. Broadley has an underground cobbled cellar, it has access via inside and outside steps; it was a dark unlit space with a few hogsheads of good cider and rabbit skins hanging up to dry.

If she heard a noise Mrs Shelston would shout "The Jerries are coming "became agitated and dash for the cellar door. This fear was real and frightening to her as her London home was bombed twice and later – to make things worse the hospital she was in was bombed. She had shrapnel damage to her face and was slightly disfigured. I believe Mrs Vera Rich took her in the tiny dark green Austin Seven to Exeter Hospital. I went to Exeter and saw the terrible bomb damage as well as crocus growing by the Cathedral.

As Mrs Shelston recovered she took to pushing the pram with either Wendy Anthony or Chris to Pladford, she fondly called the little stream "our seaside"; she recited London street cries as well as nursery rhymes - I recall only one "Cod Haddock or Plaice". She talked about going "hopping in Kent". As a girl she had been in the Girls Friendly Society and later The Primrose League.

There was no telephone so she wrote several letters to her family, she had very clear distinctive handwriting, and sometimes she packed up a parcel with a fresh rabbit and sent it to London. I believe she also sent a moss filled box with violets and primroses every spring.

If her family came they shared a bedroom and the men had a straw mattress on the floor. Harry Shelton stayed in London an was a train driver, he sent the sepia printed London railway magazine regularly. When visiting Harry loved eggs and couldn't wait to have several for breakfast. It was quite a shock to them to see a hearth-oven fire as well as paraffin stove for cooking, all the lamps were oil or Aladdins, and on the farm hurricane lanterns were used in the dark outside.

We all had plenty of good food, wild rabbits were everywhere, hens and pigs were killed regularly. There was usually a ham in brown paper hanging up in the chimney, bacon in the kitchen bacon settle and pork in the brine tub kept in an upstairs store room. This room also had apples in winter and chitting potatoes in the spring. Homemade cheese was also a real luxury.

There were three apple orchards for eating cooking and cider apples; crab apples grew on a few farm hedges as well as blackberries and on the hill hedges there were wortleberries. In late summer there were plenty of mushrooms. Peas and potatoes were grown in the fields as well as in the family garden; rhubarb raspberries gooseberries and blackcurrants were all plentiful. In the front garden there were three plum trees as well as one on the south facing house wall. There were hazel nuts in the farm hedges walnuts on the tree in the mead as well as sweet chestnuts from Blackhayes goyle for winter storage.

The Shelstons were family friends and were still in contact when they retired from London to Little Clacton near Clacton on Sea. They sent books and toys certainly until 1960; every year Mrs Shelston knitted suits for our teddy bears, every Christmas a big parcel arrived. In late summer during the 1940s they brought bundles of "Everybody's" and "Illustrated" magazines they saved during the year. The most special gift to my sister Wendy was a small black doll Auntie Shelston called a piccaninny – a word never spoken these days!

The Shelstons enriched our lives as the farm changed from having two horses called "Farmer" and "Captain" to two tractors, the first tractor was a Fordson Major –JJT 1-, then a little grey Ferguson arrived. The farm dogs were Gryp then Nobby in the 1940s.

I've visited Aunts and Uncles at Livenhayes, New Barn and Woodhayne.Grandparenst were at New Barn and Shorthayne.

Shirley Denning at Moorhayne and Margaret Hoare at Glebe were considered special older friends.

Looking back so many people showed us great kindness and generosity, thank you all.
Some of the evacuee children on a cart horse outside a wagon shed at Lower Pithayne Farm:

Ronnie Wood, Michael Sullivan, _?, George Wood, Peter Sullivan.
Frank's Story

My name is Frank Weeks. (Actually it has Francis on my birth certificate although I was never christened, which tends to give me problems with my passports.) I was born January sixth 1935 in a London suburb when, unknown to me, Hitler was rising to power in Germany. When I was four years old the second World War started and the British Government, in its wisdom, decided that all school children would be safer from the anticipated German air-raids away from presumed targets. In September 1939 over 3 million children with some accompanying teachers and, in some cases parents, moved out of cities to the supposed safety of the country-side. Some went to the coastal seaside towns on the south coast, which was very nice, just like a summer holiday, until someone realised that if Germany invaded Britain across the Channel these towns would be the first to feel the German brutality, so these children were moved on again.

My father, who was a rather serious but well educated man had decided to make his own arrangements and sent my mother and myself to the village of Yarcombe in Devonshire.

We went and stayed at the end house in the village which was, and I believe still is, called Yarty View. Not that one could actually see the river Yarty from the house but it was not very far away. The house was owned by a Miss Tatten-Waters. (or Tatum). My father's family had holidayed in the vicinity for some years staying at a farm called Middle Moorhayne that catered for guests, owned and run by Henry and Dorothy Denning who had two daughters, Monica and Shirley.

A distant relative on my mothers side was a Fred Lawson, who had a hotel called The Crown in nearby Chard. What the connection was by either side of the family to Miss Tatten-Waters I never knew. My only recollection of our stay with her was that I had picked some lovely flowers for my mother only to find myself rather reprimanded as the flowers were from the pumpkin plants in the garden.

After a while, while Britain experienced the so-called Phoney War when nothing much appeared to be happening, my mother decide to return to London to care for my father and made enquiries in the village as to whether anyone would be prepared to care for me. So it was that at five years old I went to live at Underdown Farm, about a mile out of the village in the care of Coral and Rosie Clark and the sixteen year old daughter from Coral's first marriage, Mary.

Coral was a WW1 veteran and a hard working gentle soul though he could be stern if needed. His wife Rosie was rather quiet and went about her duties which as far as I recall meant a well run house with clean, pressed linen and a good table. The daughter, Mary was a pretty but rather tubby redhead who had a happy disposition and a ready laugh.

Goodness know what they thought of this five year old lad that had arrived in their midst. Having lived in a modern house in London I had to face some changes. Underdown, in 1939, had no electricity, no phone and no running water. Evening light was from Tilley lamps and a candle lit you to bed. There was always a huge fire in the massive fire-place which had a system of ratcheted hooks on beams above it that accommodated the various pots of cooking and could be raised clear or lowered onto the heat as required. Legs of pork from the illegally slaughtered pigs were suspended up in the chimney for months to make bacon. I presume they had been well soaked in salt water as they were well salt encrusted and it was the saltiest bacon I have ever tasted.

Water for drinking was drawn from a slow running tap situated outside the house fitted to a tank in which the milk churns were placed to keep the milk cool until taken away. Water for other use was collected, rather faster, from a stream, 'across yard' where a spout arrangement had been installed enabling buckets to be readily filled. On 'washing day' being Monday, the ladies would collect several buckets of water for the job in hand and had to make sure that they did so before the cows in their stalls were let out. They were let loose for a drink while their straw bedding was changed and, as cows do, would walk in the stream, upstream of the water-spout muddying the water as they did so. If the cows were let out before the women had collected clean water the men were not popular as the stream would take a while to clear causing the women to get all behind in their work. It appears that Tuesday was drying day and Wednesday was ironing day and so the week went on. Incidentally I can assure you that starched linen sheets on a cold night are the coldest thing on earth.

Though there were several Warming Pans hanging on various walls I can only recall them being used very rarely. The usual device was stone hot water bottles. These had a couple of drawbacks, one being that if you stretched out during sleep and connected with it with a toe it was rather painful. Secondly as they cooled, and in fact got quite cold people would push them out of their bed and they would crash noisily to the floor. So, if one had trouble sleeping you could count the crashes until you knew the last one had been evicted.

Coral had a radio. This was operated on a glass battery, which I think was called an accumulator, which had to be recharged occasionally. The only time the radio was used was for a one o'clock news broadcast on a Sunday followed by a farming programme. The household had no news papers but took The Farmer and Stock Breeder magazine.

As for toilets, the ladies used an indoor flush version but with no inside running water a carried bucket had to be used to flush it. While the men had a brief stroll to a garden one. In New Zealand they are known as 'long drops' but I don't think the term is used in England. Actually this one was 'self flushing' as a tile pipe line ran from the edge of the stream, under the toilet to rejoin the stream further down a field. I recall Coral having to clear water weeds from the pipe mouth on occasion. The current owner of the property was totally unaware of the system until I recollected it to him. The general discussion resulted in the view that something that had worked very well for 600 years would not be allowed today!

I had a couple of chores to do about the farm but I think it mainly consisted of giving the farm chickens their daily feed, collecting their eggs and ensuring they were shut up at night against any marauding fox. Their chicken house was usually well across a field from the house so they were not around the house, or worse, in the vegetable garden.

I was enrolled at the Yarcombe school although with first influx of numerous evacuees the school-house couldn't cope and some twenty or so of us smaller children used the Village Hall. Memories there are of a teacher putting pictures of objects on a board and we were required to either know the object or even to spell it. I can only recall the coloured pictures. Also, and I distinctly recall being most indignant about it, some of us, I presume the youngest, were supposed to lay on cots on the stage for an 'afternoon nap'.

I was far too 'big' for such a thing. I eventually moved to the schoolhouse proper under the two lady teachers, Mrs Loft and Mrs Pidgeon. I would walk out to the school across the fields sometimes meeting up with some cousins who were living at Moorhayne or other children along the way. It probably gave me my love of the country with wild primroses or snowdrops, answering a cuckoo from the copse, the birds nests with eggs or fledglings and wild strawberries in summer. There was the occasional adder slithering away through the grass and the changing variety of crops.

The Clark family was 'Chapel People'. Mary and I would walk to Chapel in time for Sunday School. Mary was a teacher there. We then stayed for the main service, Mary being the organist. I think we children were given a homily by Mr Ryman, the incumbent minister, and then we went back to the Sunday School room while he gave his sermon to the adults. We then walked home to the Sunday dinner which was always cold as everyone had been to chapel. It could consist of slices of ham followed by a brick-hard sort of bread roll that had to be dunked in ones tea in order to ingest it. Sometimes we would return later in the day for the evening service, again walking there and back.

All stock had to be rigorously accounted for on farms with the wartime regulations but all the farmers gave lower stock numbers to the government in order to kill off the odd beast to feed their families. If a Government Inspector was due to come round we children were threatened with murder if we were to disclose the where-a-bouts of any carcases buried beneath the stacks of straw.

Sunday School had its highlight at some stage during the year when a Sunday School Outing was much anticipated with a trip to Lyme Regis or some other exotic seaside town. Another big excitement was the fortnightly trip, all of six miles, to Chard.

Coral's car was brought out of its garage and left running while we had breakfast and he got himself ready, about two hours. Then we would be off at about thirty or even forty miles-per-hour for the day out. The ladies had their lists of shopping to do while Coral met up with his cronies at the market. We kids were left to our own devices and we would all meet at the car at a prearranged time in order to return to the farm for the evening chores.

Christmas Day was the only day that 'front room' was used. A fire lit in the grate and a christmas tree in evidence with presents for everyone under it. Although the milking and usual farm chores caring for the animals had to be done as usual the rest of the day was fairly leisurely until the even chores came round again but it was a happy day.

I am not sure of dates but I must have stayed for two or more years with the Clark family before returning to my own who had moved to Colwyn Bay for a year prior to my father's death in 1943.

I have read and heard of many unpleasant experiences endured by some evacuees but I was fortunate to have been cared for by good, hard working, kind decent country folk.

They led a simple life compared to our modern ways but I'm sure were happy and contented with their lot. Coral and Rosie Clarke now lay under the same gravestone at the Chapel while Mary married, had two sons and moved to South Petherton.

After six years at the Royal Masonic School at Bushey (near Watford) during which I would often return to Underdown for school holidays, I eventually worked at Underdown for a year prior to emigrating to New Zealand in 1952.

Tony's Story (Received September 2016)

I have been looking at the comments on Yarcombe, and notice that you only have a small part on Bishopswood. I would like to give you some details of my life from 1940 at age 10yrs.

There was a whole bunch of us kids sent to the country from Bristol, we arrived in a bus at the large tined roof building that we later found out was going to be the Evacuee school. My younger brother and I were taken in by a Mr & Mrs Saturley and their brother, who had a farm called Woodend about 500 Yards from the school. She also had another couple of kids - brothers, we never found out where they came from.

My sister was taken by a young farming couple by the name of Charley Jenner. Their farm was up on the top road going out of the village towards Browndown crossroad leading to Taunton and Churchingford where we went to the Blacksmiths shop. We also went up there and mixed with the Yanks when they were training. I also used to go to the bakery as it belonged to the brother-in-law of the Saturleys and his name was Upton and he and his wife had a daughter named Unna. They lived in a House in a field behind the Evacuee school.

I had a wonderful time living and working with the animals. My sister went home in two days and my brother in about a week but I would not go and stayed there until 1945. I was a sickly boy, not good, always sick with things but when I came home I was a big strapping lad and very healthy. The Saturley's son was in the army serving in the REME and when he came out he took over the garage that was next to the village shop.

We used to walk over the fields and stream to Buckland St Mary about 4 Miles away. It was a bigger village than Bishopswood and we were in touch with a couple of girls there. I could go on for hrs but time is moving so will close if you would like more let me know. I have lived in Australia for the last 35 years and am doing well at 86yrs.

Kind regards to all

Tony Bees

Qeensland Australia


The following was extracted from Yarcombe Voices during 2015 - repeating the series first published in 2005:

70 YEARS ON - Memories of Life in Yarcombe during the Second World War (1)

A few of us who lived in Yarcombe during the 1939 - 45 war have tried to record our memories of that time. Some of us were going to school, others were in the LDV (Local Defence Volunteers) or were wives of them - later in the war the name was changed to the Home Guard.

One of the first things we remember were all the evacuees arriving, most of them from the East End of London, accompanied by their teachers, Miss Stringer, Miss or Mrs Marsh, and one other whose name we can't remember. They rented Corner Cottage by the school. Our way of life was completely different from what they had been used to. Mr and Mrs Georgie Williamson, who lived at Rose Cottage, were the main ones responsible for finding places for them to stay. All houses that had spare bedrooms were expected to take children and sometimes a parents. We had two little girls at Panshayne named Pat Adams and Ann Murphy, they were only five years old. It must have been very hard for them. I remember the first night or two we couldn't sleep because Pat Adams kept shouting, "Lady, Ann Murphy wants to go home!"

Schooling for the children was the first priority, local children one part of the day, evacuees the other. A few of us mistakenly thought this was a very good idea. This went on for a while, until the Jubilee Hall was used as a school; the London children then went there. Eventually some of the evacuees went back to London, so there was room for all of us in the school. Everyone was issued with a gas mask which we had to carry to school, as well as a dinner bag. There were no school dinners or school transport at that time. All the evacuees had to write a letter home to their parents or family if they had any, on Friday afternoons. Some of the London boys were always looking for a fight when we met up with them, they were a tough lot, we had to learn quickly to defend ourselves, but on the whole we got on pretty well together.

Mrs Gawne, the Vicar's wife, organised knitting parties on a regular basis, to knit garments and comforts for the forces; even the girls were expected to join in. All the signposts were removed in case of invasion. The Church and school bells were not to be rung except if invasion was imminent. Everyone was told to dive for cover if we saw a plane with a cross on it. Us children were sent out with trolleys, etc., to collect waste paper for the war effort. In the autumn we had to collect blackberries for the WVS at Honiton to make jam with; also we had to collect hips to make syrup. The bus services to and fro from Chard and Honiton were quite good, about twice a week; the royal blue coach to London ran every day, it would stop to pick up anyone. Petrol was rationed so some means of transport was needed.

Food and other things were soon rationed; sweets disappeared, also most imports. Three bakers came to the Parish: Durrants and Pidgeon from Stockland, and Sumption from Buckland; butcher Powell came twice a week from Membury. Each person was given a ration book which had to be produced every time you bought food (not many obesity problems then). A lot of wild rabbits were eaten, there were thousands of them about and they weren't rationed. The Government placed a large store of tinned meat, etc., at Middle Moorhayne and I believe at other places in the Parish, to be shared out if we were invaded. Farmers had to keep a very strict record of all they produced and sold. They were not allowed to sell or supply foodstuff to the general public.

The blackout was strictly enforced, you were in serious trouble if you had a light showing by night. In the winter, Church and Chapel evening services were held in the Jubilee Hall where it was easier to put up blackout curtains. On the farms it was a problem in winter carrying around an old shielded hurricane lantern in the dark, trying to see what you were doing tending and feeding livestock. Most farmers were ordered to plough up more fields to grow cereals, potatoes, etc., failure to comply could mean eviction. Cars, etc., had to be fitted with masks to deflect light down on to the ground, it was like driving with just sidelights.

All able-bodied men were told to join the Local Defence Volunteers or the Special Constabulary. The LDVs were expected to do night guard duty looking and listening for enemy activity, also groups of men had to report for night duty at Yarcombe Garage; the newly built log cabin in the little copse at Taunton turn; Hilltop Garage; Stopgate and Marsh Garages - four hours on, four hours off. Any strange or suspicious vehicles were to be stopped, the drivers questioned. Failure to stop meant being fired at, which on occasions did happen. Early in the war drilling took place at Sheafhayne Manor for the LDVs under the command of Captain Benson. Everyone was issued with twelve bore cartridges and an LDV armband. The cartridges were single shot instead of containing small shots, they were only to be used when on duty. After a while the name was changed to Home Guard. Uniforms and steel helmets were issued as well as rifles; also machine guns, mortars, grenades and other equipment for which special training was required. Another of the duties the Yarcombe Home Guard at times had to do by night was guard the Wilmington end of the Honiton railway tunnel. Sometimes the fireman on the train would throw out a few knobs of coal so that they could warm themselves and make some tea in the Gangers' hut. The line leading up to the tunnel from the Axminster side was fairly steep and so the loaded trains would be moving rather slowly.

A few bombs were dropped in Yarcombe near Crawley and at Northams but not much damage was done. Quite a few German bombers would fly at low height up the Yarty valley to keep under our radar, on some nights it was difficult to sleep with the noise. They were usually heading for Bristol, Cardiff, or other targets around there. An elderly man living up at the Beacon didn't feel safe sleeping in his house so he built a wood rick made of faggots of wood but hollow in the middle, well away from the house, and slept in there.

In about 1941/2 Rottingdean Boys School moved to Sheafhayne Manor where they stayed for several years. During a gale in December 1941 a barrage balloon broke loose from its moorings at Falmouth and ended up landing in the orchard at Panshayne, it looked huge before it was eventually punctured by the apple trees. Three or four RAF men came in a truck to collect it. We were picking geese at the time, they thought the geese looked lovely, some of them said would we send some to their families and relations in South Wales which we did for quite a few years. We could have been in trouble for this but luckily the Ministry of Food officials didn't find out!

From 1942 onwards we saw more and more American troops and equipment around, if we were lucky they would throw us some candy or chewing gum when they went by. Prior to D-Day lots of planes pulling gliders would be seen flying around, on the night of 5th/6th June 1944 we shall never forget the roar as the planes and gliders took off from Smeatharpe loaded with troops bound for Normandy. With the success of those landings most of us hoped and felt the end of the war was in sight.

By Those Who Remember.

70 YEARS ON - Memories of Life in Yarcombe during the Second World War (2)

We came to Higher Pithayne in March 1939, war broke out on September 3rd. The same year the Home Guard was formed, also some women were in it as well - I was one of them. We were called Telephonists. We used the shop for telephones and used it also for mock invasions and battles. We had a bedroom full of rifles, ammunition and targets, all used by the Home Guard. Also at Higher Pithayne we had a rifle range and Americans from Dunkeswell or Smeatharpe used it a lot.

The Home Guard had a hut at Taunton turn where they used to guard the roads, but always one remained in the hut. That was the Captain over the men. One night a Mr Fred Clarke, who lived at Smokey House, was on duty, but some of the Home Guard came back and found him fast asleep, so they tied his boot laces together and went outside and shouted, "Fire!" He soon woke up then!

I always remember one night when Frank was on duty, I looked out of my bedroom window only to look down on the top of a German bomber. It was firing right down through the village aiming at the search light at Waterhayne Farm, but luckily no one was hurt.

The Home Guard had a mock invasion one day. Everybody was in it, Home Guard and us Telephonists. A Home Guard called Gibson was on the Church tower being a look-out, giving information to us on the ground as the 'enemy' was getting closer to the village. What they didn't know was that we were waiting for them - some Home Guard in the Vicarage where the new one is now - with bags of flour! So as the 'enemy' came up to the village they were bombed with these flour bags and it was a direct hit, so that was the end of that day!

Liz Bond.


70 YEARS ON - Memories of Yarcombe during the Second World War (3)

We in the Home Guard used to meet up at two in the afternoon, Saturday or Sunday, for drill and rifle training or such. It was two o'clock because everyone had to get back to work later, for milking and so on, and in winter it'd be dark, and people would have fallen in the ditches crossing back over the fields. Shooting practise was in a field between Whitehorns and Higher Pithayne, we would shoot into a bank of sand. I remember our Home Guard caps were worn on the side of the head, but they'd blow off when a breeze came up!

Bill Doble.




70 YEARS ON - Memories of Yarcombe during the Second World War (4)



I was living and working at Blackhayes Farm and on the night of 5th/6th June, 1944, I was woken at three in the morning by a great noise. I got up and went to the window. It was a bright moonlit night and the sky was filled with Dakotas towing gliders; the planes kept on coming, there were so many of them. It was exciting then because we knew the invasion of Europe was starting; but when I think of all those young men now, a lot didn't come back.

Dorothy Miller.





List of Evacuees given Lodgings by the Residents of Yarcombe 1939 - 1945
Name
Billet
Householder
Name
Billet
Householder
Adams, Donald *
McCarthy, Lily *
Pithayne
Harris
Adams, Pat *
Panshayne
Salter
Morras, Joan
Hamperlands
Morris
Anderson, Ben
Murphy, Ann *
Panshayne
Salter
Andrews, Michael
Peacross
Howells
Newman, Quentin
Moorhayne
Denning
Bagwell, Eileen
Groveswell
Rich
Penny, Peter
Council House
Shire
Bates, Renee *
Perkins, Dolly
Underdown
Clark
Belcher, Brenda
Krows
Perkins, Shirley
Glebe Farm
Hoare
Crump, David *
Venicott
Pople, John
Woodhayne
Denning
Crump, Fred *
Venicott
Pople, June
Woodhayne
Denning
Crump, Jean *
Four Elms
Moores
Pople, Mollie
Woodhayne
Denning
Druitt, Olive
Belle View
Pavey
Sipp, David
Sipp, David
Sipp, David
Ebdon
Higher Pithayne
Bond
Sullivan, Michael *
North Waterhayne
Bond
Ellis, Sheila
Glebe Farm
Hoare
Sullivan, Patrick *
North Waterhayne
Eley, Edna
Broadley
Shelsdon
Sullivan, Peter *
North Waterhayne
Goeing, Joe
Moorhayne
Denning
Sullivan, Nellie *
North Waterhayne
Leatherbarrow, Dennis
Woodhayne
Denning
Webb, Bill *
Peacross
Howells
Leatherbarrow, Pam
Woodhayne
Denning
Weeks, Frank
Underdown
Clark
Macey, Marie
Moorhayne
Denning
Weeks, Helen
Underdown
Clark
Macey, Tony
Moorhayne
Denning
Williams, Nellie *
Belle View
Pavey
Melcher, Ernie
South Waterhayne
Bond
Wood, Georgie
Moorhayne
Denning
McCarthy, Charley *
Pithayne
Harris
Wood, Ronald
Moorhayne
Denning
* Pupils at St Anne's Roman Catholic School, Lambeth
Rottingdean School, Sussex was initially evacuated to Padstow; however, having been bombed ouot of that Cornish port,in its entirety to Sheafhayne Manor.
The Billeting Officer for the village was George Williamson, previously the Landlord of The Yarcombe Inn.