Commemoration of the Centenary of the Declaration of the Great War
In order to decide on the best manner by which the Parish of Yarcombe should commemorate the centenary of the outbreak of the Great War, it is necessary to remind ourselves as to how those who were more immediately involved decided to recognise those who gave their lives in the conflict.
In the Baptist Chapel there is a wall plaque made of carved wood into which has been set three brass plates, the heading of which reads:-
"To the Glory of God & in honour of those connected with this Church & Parish who served in His Majesty`s Forces during the Great European War"
Two plates list those who served in the Armed Forces and the third central plate records "Our Brave Dead" who are listed as follows:
| | |
| --- | --- |
| Batten T | Hawkins WT |
| Bachelor TJ | Hooper C |
| Bond EJ | Spiller FB |
| Bibbs EJB | Wakely W |
| Collins H | Willie JH |
| Doble H | |
In St John Baptist Church, set behind the south door on the wall are to be found three ceramic tiles on which the following names of those who gave their lives are recorded:
| | |
| --- | --- |
| John T Bachelor | RGA |
| Tom Batten | Ox and Bucks Light Infantry |
| Ernest Bond | Royal Enniskillen Fusiliers |
| Henry Collins | Somerset Light Infantry |
| Henry Doble | Devonshire Regiment |
| Walter T Hawkins | Devonshire Regiment |
| Fred B Spiller | AIF |
It is immediately apparent that the Baptist Chapel records eleven of the fallen whilst the Church records seven, the reason is apparent from the inscription in the Chapel "…those connected with this Church and Parish…"
In the hunt for more information about those brave men who gave their lives, Mary Smith kindly gave me access to the Minute Book of the Parochial Church Council from that time, and whereas not much real information can be gleaned, in the Vestry Minutes of Easter 1916 we have the following entry:
"Mention was also made that the names of those who gone to war should be recorded in the minute book and an oak screen be put up in the Church as a War Memorial with their names inscribed on it".
| | |
| --- | --- |
| George Bennett | 4th Devons |
| Samuel Culverwell | RAMC |
| Reginald Culverwell | RAMC |
| Sidney Doble | RU |
| James Doble | 4th Devons |
| Joseph Doble | 4th Devons |
| Walter Hawkins | 3rd Devons trfd to 1st Devons |
| Ernest Phillips | SLI |
| Reginald Pring | Yeomanry |
| Alfred Purse | SLI |
| Walter Wakley | SLI |
·
In the minutes for April 1919 there is the following entry:
"It was decided to put a brass plate in the church with the names of those who have fallen and a printed list framed of those who served their country during the war".
From the above War Memorials we are already beginning to find the names of those who gave their lives, their first names and initials and the name of the unit in which they served. From this information we may be able to find out more about the service career of each of these soldiers. I will undertake the necessary research during the coming year and I would be extremely grateful of any information, photos, memories that may still be available from members of families who are still resident in the area.
When I mentioned this project to Brian Smith he drew my attention to a grave that lies to the left of the path as you approach the south door of the Church which he stated was still maintained by the War Department. The gravestone commemorates Ernest John Bond of The Royal Enniskillen Fusiliers who died in Exeter on 17th May 1919; from the Commonwealth War Graves Commission, who is the body who still maintains this gravestone, I discovered Ernest was the son of Jesse George and MA Bond of Grovewell Cottage. I will provide more information about Ernest Bond later in this article.
However on the morning I visited the churchyard to examine this gravestone I met John Salter and he told me the following fascinating piece of information:
"The original village war memorial was in the form of a wheeled funeral bier, however this proved not to be the most practical because it could not be manoeuvred down the steps in the churchyard, so in about 1950 the incumbent Rev Clough took it to the Vicarage for storage, it was never to be seen again. But there is a tale within a tale, Mr Clough was man of private means and when the Socialist Government came to power in 1948 decided to emigrate to New Zealand and shipped himself and his motor car, a Humber Snipe, off to the Antipodes. The car was on another ship and when it arrived the Customs wanted to charge £500 duty. Mr Clough did not take kindly to this request so he shipped his family and car back to the UK and took up his position once again in Yarcombe!"
It would appear from this information that the Village after the conflict decided to have as a War Memorial a piece of equipment that not only would serve as a fitting Memorial to the Fallen but would also serve a practical purpose.
Firstly we need to establish if there are any records of this bier; and it may explain why the Memorial in the church is a low key monument. In any event one suggestion made at this month's meeting of the Parish Council is that perhaps a model be made of this bier and that it should be preserved in a fitting place in the Church.
The first person who has contacted me with information about one of our Glorious Dead, is Elaine Munt who lives at Hay Bungalow. Elaine very kindly came to tea with Susanne and myself and brought with her a photograph, taken outside Lower Waterhayne Farm of the Bibbs family taken in a 1910 or thereabouts, all in their Sunday best, one amongst which is identified as Ernest John Benjamin Bibbs aged about twenty. Sad to record this young man was killed on 10th November 1918 at Hestrud in Belgium whilst serving with the Machine Gun Corps. He was born in Yarcombe in 1887, the son of Robert Henry Bibbs and Mary Jane (nee Mathews). From the census records we assess that this Bibbs family must have moved to Birmingham in about 1895, where the family raised yet more children and where Robert Bibbs worked as a coal agent. From his medal card we learn that Ernest Bibbs enlisted in the South Notts Regiment in 1915 and was sent to France in September 1915, he later transferred to the Machine Gun Corps and at the time of his death was a sergeant.
As a final note to this first article I referred above to the grave of Ernest John Bond whom we suspect may have been a prisoner of war and was repatriated to Exeter where he died in 1919. This man was the son of Jesse Bond who was born in Stockland and in 1911 was living at Birch, Yarcombe with his wife Mary Ann and their 6 children. His occupation is listed as Parish Relief and is, I suspect, not related to the Bond family who lived at North Waterhayne at that time.
Key to Abbreviations
RGA Royal Garrison Artillery
AIF Australian Infantry Force
RAMC Royal Army Medical Corps
SLI Somerset Light Infantry
RU Possibly Release Unit or Ram Unit
These are early days, I still have to research the Minutes of the Parish Council and I am hoping Thelma Clarke may find the minutes of the Baptist Chapel. Please, if anyone has any information or ideas as to how we as a Parish might commemorate this centenary please contact me.
Steve Horner
01460 234 342
This item very kindly supplied in January 2022 by Chris Salter - see Ancestral Search 71
Harry Doble (1888-1917)

Harry Doble was born in Yarcombe on 27 June 1888, the fifth son, and seventh child, of James Doble and his wife Mary Jane (née Sprague), who were living at Rower Cottage, Yarcombe, having married at Yarcombe on 16 November 1876. The register for Yarcombe Primary School (Devon Heritage Centre ref 1453C/EFA1) shows Harry was admitted to the school on 15 May 1893 (admission no. 841 in the register) and left on 19 January 1900. In November 1906 Harry enlisted in the Devonshire Regiment claiming to be aged 19 years and 6 months, whereas he was in fact a year younger than that. The records show however that just six weeks later, in January 1907, he bought himself out. The reasons are not known.

On 31 May 1909, Harry married Minnie Ethel Rockett (1888-1966), a first cousin of my mother, in St Michael's parish church at Musbury, which was Minnie's birthplace. Their first child was a daughter, named Phyllis Eva Mary, born later that year whilst they were living at Bealey [Bewley] in Chardstock parish. The census taken on 2 April 1911 shows Harry and Minnie were then residing at Peterhayes Cottage in Yarcombe, with Harry employed as a horseman on the farm. Their second child, a son named Stanley James, was born at Honiton in December of that year.

On 11 December 1915 Harry volunteered for enlistment at Axminster under the 'Derby Scheme' and joined the 3rd Battalion Devonshire Regiment (a training unit then based in Devonport). Eighteen months later, on 16 July 1916 Harry embarked from Southampton for the BEF in France, and on 24 July he joined the 2nd Battalion Devonshire Regiment (part of the 23rd Brigade, 8th Division) at Cuinchy, about 20 miles south-west of Lille. The 8th Division (including the 2nd Devons) had recently seen major action. On 1 July 1916 (the first day of the 'Somme Offensive' - the deadliest day in British military history) the 2nd Devons had suffered very heavy casualties at 'Mash Valley', a scene of carnage, and as a consequence had been taken out of the line to rebuild. By 7 July the 2nd Devons had been moved north away from the Somme sector to Barlin where they received a draft of 92 other ranks to fill some of their gaps. A week later they entered the trenches at Cuinchy near Bethune. It was here on 24 July that Harry, along with three officers and 25 other ranks, joined the 2nd Devons as much needed reinforcements. After Harry had joined them, the 2nd Devons remained in the sector near Cuinchy until 14 October, when they moved back south to the Somme sector, arriving at Meaulte near the city of Albert on 17 October. Harry's service record shows that the following day, 18 October, he was attached to the 23rd Machine Gun Company (MGC). This was a specialist unit that belonged to the 23rd Brigade as a whole rather than to any individual infantry battalion. The 23rd MGC's war diary for 18 October shows "48 men attached from battalions" and Harry would have been one of them.

Harry's service record shows that on 31 December he was officially transferred to the Machine Gun Corps (23rd Company) but just three days later, on 3 January 1917, he was 'killed-in-action'. The circumstances of his death however are something of a mystery. According to their war diary his unit, the 23rd MGC, was 'in the field' near the village of Combles (about 10 miles east of Albert) from 29 December 1916 until 10 January 1917, and spent most of their time during that period improving positions by working on trenches and dugouts etc. Also, it appears they did not engage the enemy during that time, although there was some shelling by the enemy on the nights of 2 and 5 January. There is no mention in the diary of any casualties during that period. On 3 January, the day Harry was reported as 'killed-in-action', his unit's diary recorded "Situation normal. Targets engaged nil" with no mention of any enemy shelling. A further check of the war diary of the 2nd Devons, Harry's original battalion, similarly showed no record of any casualties on or about 3 January. How Harry came to lose his life that day is therefore unclear. Whatever the circumstances were surrounding his death, Harry is buried in Combles Communal Cemetery Extension in the village of Combles in northern France, and 'Harry Doble of the Devonshire Regiment' is commemorated on the memorial inside the parish church in his home village of Yarcombe. There is also a memorial to the 15,552 wartime fatalities of the Machine Gun Corps at Hyde Park Corner in London.
Photos/Records ... Included are various photos/records relating to Harry, viz:
| | |
| --- | --- |
| Service records for 1906-07 | |
| Service records for his war-time service in 1915-17 | |
| Medal card & relevant page from the Machine Gun Corps Medal Roll | |
| CWGC records for Harry's grave and its headstone inscription | |
| Commonwealth War Graves Commission Certificate of Honour | |
| | |
Two postcards of Combles showing the extent of the village's destruction in 1916

FREDERICK B SPILLER
Here is a link to the grave of Fred Spiller on the findagrave website
THE BATTEN FAMILY
Above: Memorial Stone in the Baptist Chapel Yarcombe

John Batten. Died in South Africa 30-12-1900. Born 1879 son of Eli and Mary Jane Batten served with the Somerset Light Infantry in the Boer War. Died of disease Springfontein 30/12/1900

He is buried with Mary Jane Batten Died 27-01-1910. Nee Corner born 9/10/1849 Tiverton. Married Eli Batten 1875 Eli and Mary Jane had seven children.

Eli Batten Died 18-04-1924 born 25/01/1846 Whitestaunton

Thomas Batten. Died in France 23-03-1918. Brother of John.

The record states that the latter 2 are buried with John and Mary Jane. In my opinion not possible as it was customary for those killed in action to be buried where they fell. I assume Eli and Mary Jane wanted to commemorate their two sons who fell in action.

Nora R M Batten Died 21-02-1922 As yet I cannot trace this lady.

Robert Batten Died 16-05-1937 at Membury (1878-1937). Brother of John and Thomas. Married Lucy Jane Doble (1879-1967).

Buried with:

Lucy Jane Batten Died May 1967 (wife of Robert).

Samuel Batten Died in Exminster (1882-1956). Brother of John and Thomas. Married Elizabeth B Doble and buried with

Elizabeth Bessie Batten (wife of Samuel) who died in Ottery St Mary 16-10-1963.

Left: Thomas Batten

Right: Thomas Batten's "Dead Man's Penny" Plaque

(click to enlarge)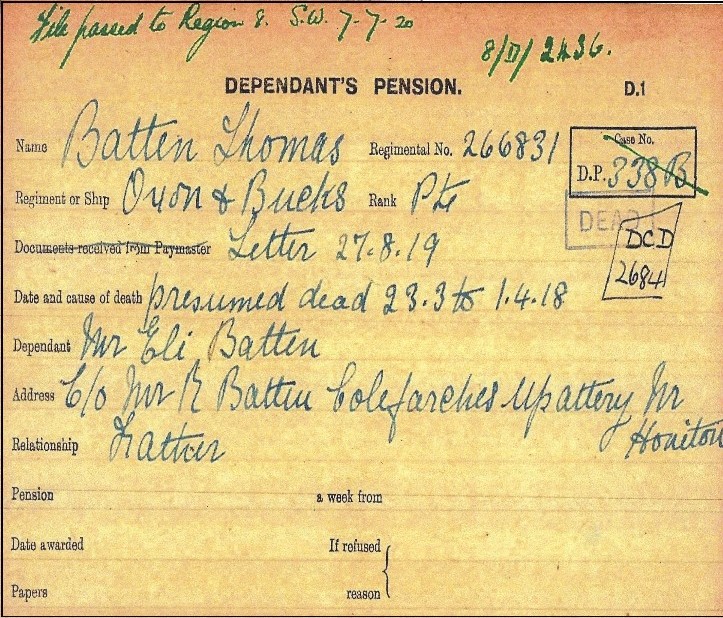 See Ancestral Search 66 for more information
| | | | |
| --- | --- | --- | --- |
| The resting place of John Batten. Died in South Africa 30-12-1900. Born 1879, son of Eli and Mary Jane Batten; served with the Somerset Light Infantry in the Boer War. Died of disease Springfontein 30/12/1900. | | | |
| | | Springfontein | |
JOHN HURFORD WILLIE
Service Record

Grave

(Click for larger images)
Thanks to Will Rich for this certicate (right) from the Mayoress of Exeter:

This Great war certificate was for my great grandmother who actually was living at Sutton Barton until 1919, so does not relate to Yarcombe.

Will Rich

See Ancestral Search 72 for more from Will
Remembering The Armistice
The following articles appeared in the December 2018 edition of Yarcombe Voices
BEACON: On Sunday evening at seven o'clock, after much preparation leading up to a weekend of commemoration and celebration and like many other communities throughout the country, Yarcombe lit its own Beacon. It was a clear night with a new moon and in a prominent position just below the phone mast with a view down the Yarty Valley. Those who witnessed the occasion including David and Nicola Meyrick were not disappointed as the dry wood rapidly caught light and the wind fanned the flames. Some had already lit their fires before coming to see the Beacon and others were soon off to view neighbouring bonfires. Thanks to David and Nicola for allowing the use of the field and to Steve Horner who had a beacon-basket made previously to the pattern of one commissioned for 'Fires over England' in 1988, our elevated flames joined the others we could see on the surrounding hills and in the valley below us. Apologies to those who turned up after the Beacon fire died down, but our village website will be displaying a number of photographs of the event. (See below)

BONFIRES: Our thanks go to the people who hosted each of the 11 bonfires on the 11th day of the 11th month, one for each of the Fallen in our Parish. The bonfire at Four Elms, where Thomas Batten is remembered on a headstone and by the 'Dead Man's Penny' in the adjacent Baptist Chapel, was hosted by Nick Randle and Thelma Clarke. Debbie Luck and family were at this bonfire. This bonfire would also have been seen from Stockhouse, where Walter Tom Hawkins' family lived, according to the 1911 Census. On the other side of the ridge which runs along Pound Lane, Lorna and Jim Burdge and family had their bonfire at South Waterhayne. This is where the family of Ernest Bibbs' mother farmed, particularly poignant is the fact that he died on November 10th 1918, just a day before the Armistice. Thanks to Elaine Munt we have a photograph of Ernest Bibbs and he was also commemorated by Andrew and Elaine. At the end of Pound Lane, George Pidgeon was also having a bonfire as was Jean Rich at Broadley Farm just up the lane from Grove Well Farm where Ernest John Bond's family lived. Just after 7p.m., Philip, Barbara and James Bearne from Waterhayne Cottage went up James Lane and were able to see nine of the bonfires from there. Thomas Batten was also being commemorated at the Beacon, where Tommy had lived and where his Dead Man's Penny would have been a treasured possession of his family for many years. We do not know its travels before it was returned, out of the blue, to Yarcombe in 2016. Maggie Tomkinson was joined by Miranda Gudenian, Caroline Ford and Paul and Nicole Dunphy. (It was at this moment that I was lucky enough to spot two shooting stars arching over the valley. - Ed.). At Peterhayes the Derryman's bonfire was in the location of Harry Doble's family home as recorded in the 1911 Census. There were also bonfires at Valley View where Daniel Greening and Alistair Billington ensured that it could be seen down the Yarty Valley as did Merv Edgecombe at Cornhill, which may have been the largest fire and the longest in flame. There were also bonfires in Marsh. One of them was at Knightshayne Farm where David Barnes positioned it so that it could be seen down the valley towards the village. This bonfire was the one closest to where Charles William Hooper lived with his family in Sudbeer, a property which has now disappeared, but was between Williambeer Farm and Watchford. It was also the closest to Stout Cottages where Harry Collins, the first person in the Parish killed in the war, lived in the 1911 census. Steve and Susanne Horner positioned their bonfire at Old Woodhayne Farm at the highest point in the Parish which has a clear view across the valley to the Howley Tavern. Even Golden Cap can be seen in the distance on a clear day, while behind them the lights on the Stockland TV mast were visible. They could also see their neighbours' bonfire - Phil and Gill Holness and family - at Shorthayne, where a 'Lest We Forget' flag featuring a poppy and five aircraft. As Steve and Susanne gazed down into the valley they could see the fire at Shorthayne and another at Southey and they realised that 100 years ago there would have been no lights visible in the valley. As Woodhayne is remote they pondered how the occupants of their farm and others similarly remote in those far off times found out the news of the Armistice on that momentous day as they would not have been able to hear the bells of either Yarcombe Church or Buckland Church. Perhaps news of such great significance was passed from neighbour to neighbour and wherever they lived, they quietly celebrated the Armistice in their own way. The Beacon itself was only a hundred yards or so from Smokey House, home in 1891 to Frederick Spiller whose parents were living at 1 Calways in the 1901 Census. John Batchelor who was a gamekeeper on the Yarcombe Estate would have been familiar with the land around the Beacon. Another bonfire on the Estate was at Panshayne where Philip and Serena Kerr saw their fire lit and then left the family in charge while they came up to the Beacon. We are particularly grateful to Steve Horner whose very thorough research into the eleven Fallen recorded on the Roll of Honour has enabled Yarcombe to bring very special personal details to many of these names and link them to their 'own' bonfire tribute.

CANDLES: Thank you to everyone who lit candles in their windows and turned out the lights at 7p.m. Phil Holness placed his candle beside a treasured family photograph of his grandfather George, in uniform surrounded by his wife and seven children, including Leslie who was Phil's dad. The occasion appears to have been while he was on leave during what turned out to be four years serving in the trenches, which he survived, to return to his family and have a further five children. Together, these tributes, all on Armistice Sunday evening, were a special Yarcombe commemoration of the determination, bravery and sacrifice by so many men and women, and especially our eleven, now remembered 100 years later, not just in the Church, the Baptist Chapel and the Jubilee Hall, but at various places throughout the Parish, many directly linked to our eleven gallant soldiers, but all bonfire locations would most probably have been familiar to each and every one of them.

Clive Stone
On Sunday 11th November at exactly 7p.m., Susanne and I lit our bonfire on our top field which we believe is the highest point in the Parish. From this site we can see Golden Cap down on the coast and the top light of the Stockland TV mast; sadly we cannot look down the valley but we do look across to Howley and the Turnpike Caravan Park. I timed my lighting procedure with the aid of the clock on my mobile phone, a device unknown 100 years ago and our Beacon was soon burning brightly; it is amazing how a bale of straw and pallets soaked in diesel will quickly produce a fire giving off great heat and much light which should have been visible from many miles away. We had our backs to the south-west wind and the sky above was clear, behind us a crescent new moon waxed brightly on the western horizon and above loomed the red planet, Mars the God of war - was this a portent I asked myself? As we gazed down into the valley we could see a fire at Shorthayne and another perhaps at Southey and Susanne commented that 100 years ago the valley would have been peaceful and no lights would have been visible. As we are remote here at Woodhayne we pondered how the occupants of the farm in those far off days found out the news; we cannot hear the bells of Yarcombe Church though with an easterly wind we do hear the peal of Buckland Church. Still, perhaps news of such great significance was passed from neighbour to neighbour and indeed those who lived here also quietly celebrated the Armistice. We returned downhill to our cosy, warm house and watched the most moving of TV programmes, 'They Shall Not Grow Old' produced by Peter Jackson which brought home with terrifying reality the horror, noise and stench of war. Well done to Maggie, Clive, Miranda and many others in our community who worked tirelessly to make this a memorable Armistice Day when we were all able to honour all those from our Parish and indeed the country who gave so much that we could be free today.
Steve Horner
Yarcombe people were busy during the week preceding Remembrance Day. Sonia Boyd's Flower Fairies beautifully decorated the Church and another team of volunteers put up bunting and flags inside and outside the Jubilee Hall (the entrance now embellished with Peter Meyrick's beautiful new railings in memory of his great uncle who was killed in the Second World War). Therefore the monthly Village Market on Saturday 10th was set in the mood for the celebrations and Rebecca Bell and Diane Frost went the extra mile to make Anzac biscuits and Trench cake for refreshments for the many who braved the elements to attend. In the afternoon tables were set out in long rows in the hall to emulate an indoor street party for the evening entertainment and bedecked with candles, poppies, menus for the forthcoming feast and information about food rationing which occurred as supplies dwindled in 1918. It was interesting to note that people were urged to use potatoes freely! (Street parties started in the First World War to help feed children as food was so scarce). Maggie Tomkinson had been busy with her team organising this Yarcombe and Marsh 'Thank You 100' Indoor Street Party, where everybody was encouraged to dress up in WWI costume. Service uniforms, hats, long skirts and blouses were raked out from the back of wardrobes confirming the old adage that what goes round, comes round! Philip Kerr, compere for the evening, proposed a toast to 'Peace' and got everybody into the swing of things by asking Maggie Lane to play the National Anthem, first to 'God Save the King', and then to 'The Queen'. Streeters were in charge of doling out the first course of beef stew, brimming plates being passed down the tables and mopped clean with bread. Second and third helpings were available to those who could manage them. Then there was a break for Maggie's Mix and the Allsorts to sing and encourage all to join in those well known songs, 'Pack Up Your Troubles', 'It's a Long Way to Tipperary', 'You Made Me Love You', 'Silvery Moon', 'Roses are Blooming in Picardy', from the song sheets provided. It was also time for the raffle to be drawn, with prizes such as a tin of spam or a candle, so precious in WWI. The second course, apple cake and custard was then served during which a themed quiz was introduced by Philip, diners dividing themselves into smaller groups around the tables. Some very obscure questions were asked, some with answers to choose from, and others which meant trying to apply a little logic, which proved both informative and interesting. Winning groups receiving Cadbury's chocolate bars, after all had joined in a bit more singing to bring the evening to a close. Those who attended would like to thank Maggie T for arranging such a thoughtful and enjoyable evening. Luckily, Sunday 11th dawned bright and sunny. The Church bell ringers muffled their bells prior to the service, and rang clear after the service. It was a great joy to welcome Joan Berry back to take the service which is so dear to her heart and to see her on the road to recovery. She was assisted by Thelma Clarke from the Baptist Chapel whose wonderful support both mentally and physically were apparent. Chard Concert Brass, faithful over very many years, played the music for the hymns; the bugler played Last Post and Reveille. The Colour Party was led by Flag bearer George Bright and wreath bearers were Benjamin Rich, Emma Dyer, Caroline Ford, David Clarke, Rosemary Abel and Geoffrey Berry. Organist, Gavin, read the names of the fallen from Yarcombe. Ex Sgt. (M.P) Nicholas Wadey read the Commendation and Kohima Epitaph. Miranda Gudenian read 'A Horses's Prayer' and spoke about the eight million horses, donkeys and mules killed and mutilated on the battlefields of World War One, such dreadful conditions; the prayer was a favourite of the late Michael Ford, Chairman of the Membury & Yarcombe Branch of the Royal British Legion, who had contributed to the Remembrance Service over so many years. David Tyzack read the New Testament lesson. Joan Berry gave the Address and Thelma Clarke read prayers. David Bristol and Henry Derryman were sidesmen. Refreshments were served in the South Transept after the service by Barbara Salter, Rebecca Bell, Mary Smith and Margaret Hoare. During this social break Gavin played WWI songs on the organ. At 7p.m. that evening, organised by Clive Stone and in unison with the rest of the country to commemorate the signing of the World War One Armistice, a beacon was lit in the field at the site of Yarcombe's beacon by kind permission of David and Nicola Meyrick. Eleven smaller bonfires were lit around the village and candles placed in darkened windows at the same time in memory of the eleven men from this Parish killed in the First World War.

Lesley Sutton
Here follows a collection of photographs taken of the Yarcombe beacons on 11th November 2018, on the 100th Anniversay of the Armistice:
(Click to enlarge in a separate window)
South Waterhayne

(Lorna & Jim Burdge)

Ernest Bibbs remembered

Picture not available

Visible from Grovewell where Ernest John Bond's family lived (Jean Rich)
Peterhayes Farm

(The Derrymans)

Harry Doble remembered

This location would have been very familiar to Frederick Spiller who lived in Smoky House 100 yards down the road and to John Bachelor who was a game keeper on the Yarcombe Estate
Old Woodhayne Farm

Highest point in the Parish

(Steve and Susanne Horner)
From Phil & Gill Holness who had a very appropriate flag
Valley View

(Daniel Greening / Alistair Billington)

Cornhill

(Merv Edgecombe)

Panshayne

(Phil & Serena Kerr)

Beacon Farm Beacon including candles in the windows

(Miranda Gudenian / Maggie Tomkinson)

Four Elms

(Thelma Clarke & Nick Randle)

Dedicated to Tommy Batten. Also visible from Stock House where Walter Tom Hawkins' family lived